Paramedic Program at OCC
SUNY OCC Office of Student Recruitment
Webpage::
https:/www.sunyocc.edu/connect
Text Message:
315 870-1254
Phone:
315 498-2221
Email:
recruitment@sunyocc.edu
Enrollment for the Paramedic Certificate or new A.A.S. degree is now through Onondaga Community College (OCC).
To apply to this program, please complete the application, select the "School of Health" and then select the "Paramedic AAS" or "Paramedic Certificate" program.
OCC Paramedic Program Application
Please contact us with any questions at emsctr@upstate.edu
_______________________________________________________

The Upstate Paramedic Program meets or surpasses all National Registry of Emergency Medical Technicians (NREMT.org) requirements and standards, is Committee of Accreditation for the EMS Professions  (CoAEMSP.org) accredited, and requires students to complete 500 hours of classroom training plus an additional 500+ hours of internship and field training. Paramedics frequently earn additional certifications such as Advanced Cardiac Life Support (ACLS), Pediatric Advanced Life Support (PALS), Advanced Medical Life Support (AMLS), and Pre-Hospital Trauma Life Support (PHTLS), all of which are included in the Upstate Paramedic Program.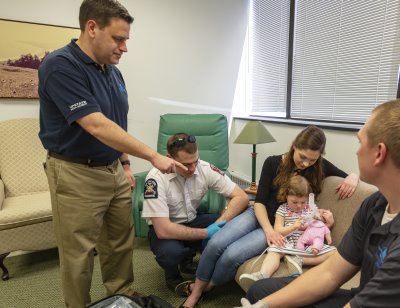 Accreditation
The SUNY Upstate Medical University Paramedic program is accredited by the Commission on Accreditation of Allied Health Education Programs (www.caahep.org) upon the recommendation of the Committee on Accreditation of Educational Programs for the Emergency Medical Services Professions (CoAEMSP).
To Contact CAAHEP:

Commission on Accreditation of Allied Health Education Programs
25400 U.S. Highway 19 North, Suite 158
Clearwater, FL 33763
www.caahep.org
To Contact CoAEMSP:
8301 Lakeview Parkway Suite 111-312
Rowlett, TX 75088
214-703-8445
FAX 214-703-8992
www.coaemsp.org
Program Performance Data
What is a paramedic?
"The Paramedic is an allied health professional whose primary focus is to provide advanced emergency medical care for critical and emergent patients who access the emergency medical system. This individual possesses the complex knowledge and skills necessary to provide patient care and transportation. Paramedics function as part of a comprehensive EMS response, under medical oversight. Paramedics perform interventions with the basic and advanced equipment typically found on an ambulance. The Paramedic is a link from the scene into the health care system."
-From The National EMS Scope of Practice Model
Please see the NREMT's site for more information
What does a paramedic do?
Respond to 911 calls in small teams for both emergent and non-emergent conditions, in ambulances, in helicopters, in fixed-wing flight, and a variety of other settings


Assess patient condition and determine course of treatment within established protocols


Document patient care for all involved healthcare providers, serving patient care and research purposes


Complete inter-facility transfer of patients, sometimes requiring intensive care transport


Perform regular (monthly/weekly/daily) equipment inspection to ensure all tools and equipment are resupplied and functioning in proper working order
Is there an age requirement/limit for paramedics?
New York State law requires that you must be at least 18 years of age by the end of the month in which you are scheduled to take the written certification examination. There is no maximum age, but you need to be able to lift, carry and balance up to 125 pounds (250 pounds with assistance).
What sort of personal qualities are desirable in a paramedic?
These are qualities we think are important:
A paramedic must be able to deal with pressure and stress. A paramedic will encounter many unexpected circumstances in the field, on the ambulance or inside a hospital and must maintain the focus and calm on which the patient's life may depend. Patients sometimes need assistance in the worst of circumstances, including but not limited to locations which are dirty, bloody, or simply distressing to see.


A paramedic will need to not only be fit, but be able to lift, carry and balance up to 125 pounds (250 pounds with assistance). Along with general physical and mental health, the job of a paramedic requires a lot of sitting, standing, and reaching.


A paramedic should have both assertive and compassionate characteristics. A paramedic must understand how to effectively communicate with patients who might be frightened, in pain or suffering from an illness which presents interpersonal challenges to the paramedic.


A paramedic should expect to work long hours. It's not uncommon at all for a paramedic to work 12, 16, even 24-hour shifts.


A paramedic has to do some quick, accurate mental arithmetic in order to perform drug calculations based on patient weight and dosages- so basic math skills are essential.
How does certification or licensure work?
NREMT certification
confirms you have met a set of standards and have, in the opinion of many states, the necessary knowledge/skills. In many such states, a license is granted by the state giving the legal permission to
practice
as a professional in that state.
New York State certifies individuals to operate as a Paramedic. First, New York State does not grant paramedic licenses, it only issues state certification. Secondly, New York State does not accept NREMT certification as a basis for New York State paramedic certification. Instead, New York State requires the applicant to pass a state test to gain certification. In our program, we'll help you prepare to successfully take that exam.
Lastly, it is important to note that our program is geared to
meet or surpass
NREMT standards and that the successful completion of our program will prepare you to sit for the NREMT exam
or
the New York State exam.