Advanced EMT (AEMT) Original
EMS & Paramedic Training
Contact:
Doug Sandbrook, MA, NRP
Phone:
315 464-4851
Email:
emsctr@upstate.edu
Workforce Innovation and Opportunity Act
Career and workforce centers around New York State administer to the WIOA training opportunity and can supply funding for education or training.  For more information or to find your local career center, follow the link below to the New York State Department of Labor and filter by your county of residence or your region.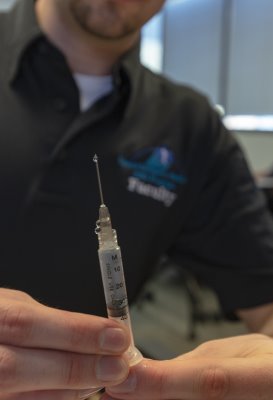 No classes are currently scheduled.  Please check back frequently for any updates.

Upstate's Advanced Emergency Medical Technician (AEMT) Course gives you the strength and skills to advance your career in Emergency Medical Services. We train students how to lead with confidence in high stress, emergency scenarios. The AEMT program prepares the student to provide basic and limited advanced emergency medical care and transportation for critical and emergent patients who access the emergency medical system.
AEMTs are qualified in advanced emergency care by a competency-based training program that consists of didactic hours, clinical rotations, and a field internship. Students spend approximately:
150 classroom hours where students develop skillful techniques and achieve an in-depth understanding of many areas of medicine, including: anatomy and physiology, patient assessment, intravenous access, emergency pharmacology, airway management, cardiology, trauma, neonatology, and much more
120 hours in a series of clinical rotations in the hospital setting where emergency procedures are practiced and critical thinking skills are applied to real patients
150 hours of internship working in the field under the experienced preceptors
The student's NYS EMT certification must remain valid throughout the program. DOH BEMS Reimbursement does not cover tuition for this program. This course prepares you for the NYS and National certification exams.
National Registry of EMT: Advanced Emergency Medical Technicians
Admissions Policy
Upstate EMS Programs reserves the right to deny admission or readmission of any individual considered detrimental to the best interests of the Program or the Department of Emergency Medicine. Each student must be able to assume the duties and responsibilities of an AEMT with or without reasonable accommodation as outlined by the Department of Health.
All students must maintain a valid NYS EMT certification throughout the program. Failure to maintain a current certification will result in removal from the program. Must be able to read and write the English language.
Student Financial Responsibilities
Students are responsible for any and all costs associated with their course.  If a student damages an affiliated agency or Upstate's equipment or property, they may be held responsible for costs or damages
AEMT Program Goals & Terminal Learning Objectives
Provide the student with the knowledge and experience required to assess and treat a single or multiple system trauma patient in any given situation, including conditions involving the respiratory system, cardiovascular system, nervous system, muscular-skeletal system, integumentary system, endocrine system, digestive system, genitourinary system, and reproductive system.
Provide the student with an understanding of the principles used in treating medical emergencies involving pediatrics, obstetrics, neonates, hypoperfusion (shock), behavioral disorders, toxicology, alcoholism and drug abuse, geriatrics, anaphylaxis, and infectious diseases.
Provide the student with the training to perform the following at the appropriate time in the correct situation:
Airway management and ventilation
Endotracheal intubation
Intravenous cannulation
Administration of medications by intravenous, intramuscular, or subcutaneous routes
Pleural decompression
Application of splinting, bandaging, spinal immobilization and use of other device appropriate to the care of the sick and injured
Disentanglement of a patient, packaging and removal from the scene
Methods of radio communication with pertinent parties including medical control, dispatch, etc.
Report writing skills
Understanding of the role and responsibilities of the AEMT in performing both emergency and operational aspects of the job