Emergency Nurse Practitioner Fellowship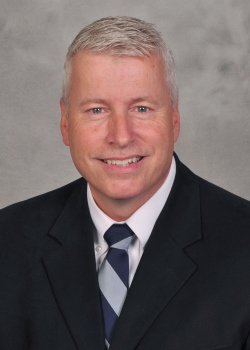 William Linsky, FNP, MS, DNP
Fellowship Director
Program Description
The SUNY Upstate Emergency Nurse Practitioner Fellowship Program is a highly intensive, 12 month clinical and didactic training program designed to train family nurse practitioners in the delivery of high quality, evidence based emergency care to patients across the lifespan. This fellowship builds upon the educational preparation accomplished through the graduate academic family nurse practitioner curriculum in congruence with the American Academy of Emergency Nurse Practitioners delineated scope and standards. Fellows will acquire an enhanced clinical acumen to promote a successful transition to advanced emergency nursing practice among a team of internationally recognized emergency care providers in collaboration with other specialties. Upon completion, fellows will be eligible to sit for the American Academy of Nurse Practitioners (AANP) ENP certification examination (ENP-C).
Program Overview
12 months full-time, paid fellowship
5 hours of weekly didactic lectures
ACLS & PALS Courses
ATLS, AHLS and ACLS & PALS Instructor Courses Provided
High Fidelity Simulation Lab Training Opportunities
Research and Publication Opportunities
Bedside Ultrasound Training
Eligibility to sit for AAENP Certification Exam
Program Curriculum Structure
Didactic
The fellows will participate in weekly Wednesday morning lectures with emergency medicine resident physicians. Other didactic learning opportunities will be provided through institutional and national conferences, lectures, journal clubs, case presentations, and high-fidelity simulation labs.
Clinical
Clinical rotations are located at the Upstate Downtown Campus and the Upstate Community Campus Emergency Departments. These rotations provide clinical training in the care of patients requiring specialty consult services (including but not limited to: MICU, SICU, stroke, burns, orthopedics, ophthalmology, anesthesia, neurology, toxicology / poison control, hyperbarics, emergency bedside ultrasound, addiction medicine, and psychiatry)
Eligibility
To be eligible to apply for the fellowship, candidates must have an anticipated graduation date from an accredited nurse practitioner program and completion of national FNP board certification prior to the anticipated start date.
Candidates with ICU, ED or EMS experience preferred, but not required.
Application
Applications must include:
Cover letter

Current Curriculum Vitae/ Resume

Academic transcript with proof of program completion

Copy of national board certification or letter of eligibility to sit for the exam

Copy of RN licensure

Personal statement (1 page stating professional goals and reason for pursuing fellowship)

Three professional letters of recommendation
Applications will be accepted in June with a start date of January.
Please submit application documents and application fee made payable to Upstate Emergency Medicine to: Courtney Hines, Coordinator
or by USPS mail to:
SUNY Upstate Medical University
Department of Emergency Medicine
Emergency Nurse Practitioner Fellowship Program
Attn: Courtney Hines
550 East Genesee St., Suite 103
Syracuse, NY 13202

Frequently Asked Questions...
Does the fellowship offer benefits like health insurance and paid time off?
Yes.  Fellows are eligible for both health and dental insurance, vacation and sick time.  Malpractice insurance, assigned textbooks, white coats, DEA reimbursement, ENP prep course and exam fees are also provided.

What is a fellow's schedule like?
Fellows work 40-45 hours per week and follow a mentor's schedule for the first 3 months.  This allows fellows to acclimate to the clinical environment and present cases to a mentoring Nurse Practitioner.  After 3 months, the fellow will be in a rotational schedule of days, nights and weekends.
What is the benefit of attending an ENP fellowship?
ENP fellowships are an extremely rewarding opportunity to acclimate into a new clinical setting or specialty under the supportive guidance of experienced clinical faculty.  This program guides fellows through a successful role transition to evidence-based advanced emergency nursing practice.