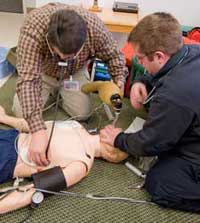 Upstate's EM-STAT Center is the only one of its kind in Central New York, with state-of-the art equipment and top-notch training. The simulation technology includes:
An "extended family" of programmable mannequins four adults, one pediatric and one infant. The mannequins can be programmed to speak, cry, blink, bleed, and respond physiologically to medical intervention.
Multi-media equipment, including online simulation programs of scenarios in a 'virtual' environment for student learning
Four simulation rooms, including an operating room
Two debriefing/conference rooms, where recorded scenarios can be played back and analyzed to review performance.
Skills Taught
Vital signs
Cricothyrotomy
Medication administration
Defibrillation and cardiac pacing
Chest tube insertion
Diagnostic peritoneal lavage
Lung, heart and bowel sounds
Endotracheal intubaton
Peripheral and Central IV placement
ECG interpretation
Needle chest decompression
Urinary catheterization
Hemorrhage control
Lumbar puncture
Ultrasound and imaging interpretation
When training in a team environment, we also stress non-technical skills, such as:
Team building and communication
Diagnostic reasoning
Multiple patient incidents
Critical decision making
Critical incident management
Research and evaluation