The Office of Volunteer Programs
In light of the continued spread of COVID-19, and with the utmost respect, care and concern for our volunteers, Upstate has decided to temporarily suspend ALL volunteers from service across our campuses (& outpatient sites) effective Monday, March 16 at 4pm, until further notice.
Your interest in volunteering at Upstate University Hospital expresses a sense of compassion and concern for persons in need of our assistance in some very important manner. The opportunities are endless for individuals who possess a passion for helping others.
Find out more about volunteer opportunities at Upstate University Hospital at either:
Downtown Campus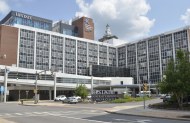 Community Campus