PAD Program, Automated External Defibrillator (AED) and Adult Heart Saver Cardiopulmonary Resuscitation (CPR) Course
Life Support Classes
Contact:
Rose More or Stan Goettel
Phone:
315 464-4851
Stan Goettel, MS, EMT-P
Manager, Life Support and PAD Programs
UNLICENSED UPSTATE EMPLOYEES CAN REGISTER NOW FOR CPR TRAINING
Intended Audience
This course is open only to non-clinical Upstate/Comm employees who are interested in participating in Upstate's Public Access Defibrillator (PAD) Program and receiving free training in CPR and AED use and non-licensed nursing staff working in a title which requires Heartsaver CPR (CPR-1).
Learning Objectives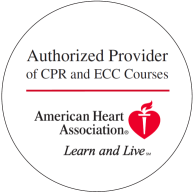 4-hour classes using the American Heart Association Heartsaver format is offered on a regular basis. During this course you will learn:
How to remove an airway obstruction to the conscious and unconscious person
CPR
Use of an AED
Upon course completion, the student will receive a Heartsaver AED certification card that is good for two years.
New York state law requires that users of an AED have completed a recognized course in AED use, or have otherwise received training in its use during their education as health care professionals. Individuals who use an AED in a good faith effort to revive a patient are protected from liability by New York state public health law.