Upstate Connect (formerly Health Connections)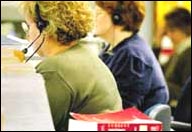 Upstate Connect is part of University Hospital's Patient Access Services and provides confidential telephone nursing services to the public, including 24 hour triage of adult and pediatric patients with health complaints. Upstate Connect New York State registered nurses also provide extensive and customized general health information by mail, internet, or telephone and can provide patients with physician or service referrals. Support services provided by Upstate Connect to institutional clinical investigators include telephone enrollment and follow-up of research subjects.
Deborah J. Mann, MD, Assistant Professor of Emergency Medicine, is Medical Director for Upstate Connect.
Visit the Upstate Connect or call by phone: 800 464-8668