NYS Fair Alternate Care Facility
In the event of a major disaster, it is likely that existing health care facilities will be easily overwhelmed. We have developed an alternative-care, surge-capacity facility to reduce the impact of disaster. Through a generous construction grant from the US Department of Health and Human Services, we have constructed a 16 bed emergency services facility (expandable to 32 beds if required) on the grounds of the New York State Fair. Replacing the existing infirmary, located behind the fair's horticultural building, this facility is designed to serve several purposes.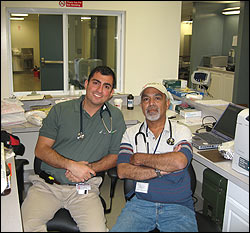 First, it is used to provide medical care during the State Fair (these services provided by the Department of Emergency Medicine of University Hospital) and for other major activities held on the fair grounds during the year. Second, it serves as a training facility for the Medical Reserve Corps, state, county and local groups, other emergency preparedness organizations and for planned joint civilian and National Guard exercises. Third, it serves as a surge capacity facility in the event of an actual disaster or other emergency, thus reducing the burden on local hospitals and other health care facilities.
The State Fair Emergency Services Facility is a unique endeavor in the country. Other states have begun to look to our facility for assistance and guidance in developing similar structures. Thus, we have been able to be a national leader in this effort.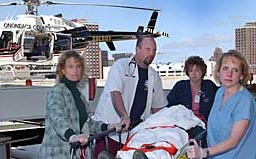 Community Education
Academic Health Center Consortium for Mass Casualty Management
We participate with Upstate Medical University and the academic medical centers in Albany, Rochester and Buffalo in the Academic Health Center Consortium for Mass Casualty Management. This consortium works to demonstrate the benefits of such a cooperative relationship in addressing service needs of upstate New York.
The current work of this group is focused in two areas: mass causality burn management and burn surge response, and in understanding the science of surge needs and response. We are also participating in the assessment of the utility of the S100B protein as a marker of head trauma which may be useful in patient assessment during mass casualty events.