Not all physicians can provide effective medical care in the prehospital environment. The physicians on the Response Team have significant experience and training in out-of-hospital medicine. Four of the members of the team have obtained fellowship training in EMS. Two are also paramedics and two are interior firefighters. All team members have advanced training and experience in EMS and the specialized capability to provide field medical and surgical procedures. Only physicians with these advanced skills and operational experience have been selected to serve in this capacity.
Derek R. Cooney, MD, LEO, FACEP, FAAEM

The Medical Director for the Physician Response Team.
Program Director of the EMS Medicine Fellowship Program.
Completed his EMS fellowship training at the Texas A&M Health Science Center / Scott & White.
Joined as faculty at Upstate in 2007.
Currently serves on the New York State EMS Council, the Board of Directors of the National Association of EMS Physicians, and is the acting-President of the Central New York EMS Council.
Christian Knutsen, MD, MPH, FACEP

Completed his two year EMS Fellowship at the University of Pittsburgh Medical Center
Joined as faculty at Upstate in 2009.
Masters in Public Health with a certificate in Disaster Preparedness, University of Pittsburgh, 2014
Associate Director of the EMS & Disaster Medicine Fellowship
Medical Director for Upstate's EMS Programs
Chair of the REMAC EMS Education Committee
David Landsberg, MD, FF/EMT-P, FCCP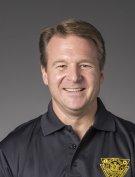 Has over 30 years experience in EMS including 5 years as a FDNY Paramedic as well as over 20 years in the fire service as an interior firefighter, which he continues today.
Works as a full-time Critical Care physician
Is an award winning educator of his peers holding academic ranks of Associate Professor in the Departments Medicine and Emergency Medicine here at Upstate.
Chris Tanski, MD, MSEd, EMT
Physician member of DMAT NY-4 (Federal Disaster Response Team)
Completed his EMS fellowship training at University of Buffalo
Joined as faculty at Upstate faculty in 2014
Mercy Flight Western (Medical Control Physician)
Lindsay Nausin, DO, MPH
2022-2023 EMS & Disaster Medicine Fellow
Dr. Nausin completed her Emergency Medicine Residency at Western Michigan University Homer Stryker M.D. School of Medicine