Prostate Cancer Program
Upstate Specialty Services at Harrison Center
Suite M,
550 Harrison Street
Syracuse, NY 13202
Map & directions
Phone:
315 464-1500
Partnering with


The Prostate Cancer Program at the Upstate Cancer Center is a multidisciplinary team of physicians dedicated to early detection, diagnosis, and treatment of prostate cancer.
The Region's Best Prostate Cancer Team!
"If you ever face a diagnosis of prostate cancer, make Upstate your winning team."
—Jim Boeheim
The team consists of experts in Urologic Surgery and Urologic Oncology, Radiation Oncology, Medical Oncology, Radiology, and Pathology with specific focus on modern diagnostic and treatment modalities, such as:
Prostate cancer imaging
Molecular diagnostics
Minimally invasive robotic laparoscopic removal of prostate
State-of-the-art radiation treatments
Modern medical treatments for advanced disease
Many members of the Prostate Cancer Program are involved in clinical and basic research, and conduct clinical trials.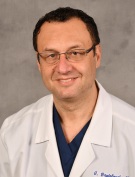 "Proper management of prostate cancer requires more than the ability to perform an operation. It involves making informed judgments about a complex disease process, from diagnosis of patients, to performing active treatment in those who may be considered high-risk, and most importantly, to avoiding unnecessary treatment."
—Gennady Bratslavsky, MD, Professor and Chair of Urology, Director of the Prostate Cancer Program