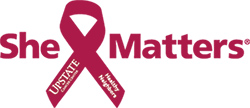 Upstate Cancer Center
750 East Adams Street
Syracuse, NY 13210
Phone: 315 484-4237
She Matters® is a community outreach program that educates women on the importance of breast cancer screenings. She Matters® is made up of Community Health Workers (CHWs) that go into the community they live in and encourage/help women to schedule a mammogram. The CHWs provide support by going to appointments and staying in the waiting room until the mammogram is completed. CHWs also make annual phone calls to remind patients of their upcoming appointment.
1 in 8 women in the US will develop invasive breast cancer during their lifetime.
Breast Cancer is the MOST COMMON CANCER amongst American Women and the SECOND LEADING CAUSE of cancer death.
Mammograms Save Lives
A mammogram can find breast cancer when a lump is too small to feel
When breast cancer is found early, there is a 93% chance of survival
Most women who get breast cancer have no family history of the disease
African American women are more likely than all other women to die from breast cancer. Their tumors are often found at a later, more advanced stage when there are fewer treatment options.
If over 40: Get a Mammogram
If younger than 40: Know your family history, ask your doctor for more information.
What Can I Do?
You can do things that are good for your health and might also lower your risk for getting breast cancer. Learn more...
Haga
clic aquí
para obtener información en español
.