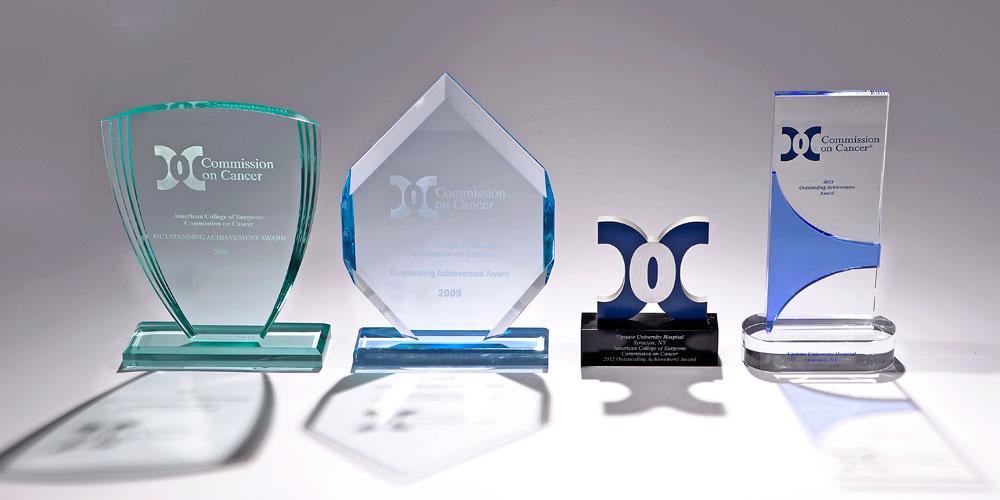 Accreditations and Awards
American College of Surgeons: Commission on Cancer

The Upstate Cancer Center is accredited by the American College of Surgeons: Commission on Cancer (ACOS CoC). We are among the 1% of accredited cancer programs in the country who have achieved the Outstanding Achievement Award for four consecutive survey cycles. Programs recognized for outstanding achievement demonstrate compliance in 29 standards and commendation in seven standards. These represent the full spectrum of cancer services, from six key focus areas: cancer committee leadership, cancer data management, clinical management, community outreach, quality improvement and research.
Accredited cancer programs undergo a rigorous site visit by a physician surveyor once every three years, and document ongoing program compliance with the standards each year. Programs must demonstrate excellence in providing high quality care to cancer patients, in an environment that centers around the patient. Patients are engaged in decision making, and navigated through the care continuum by professionals. Support is provided to the patient and their family to assist with care transitions from active treatment through after care, often referred to as survivorship. Patients and families can participate in the many services offered through the Upstate Cancer Center.
---
Radiation Oncology
The Department of Radiation Oncology at the Upstate Cancer Center has been awarded accreditation by the American College of Radiology (ACR). Accreditation by the ACR is recognized nationally as the "gold standard" for Radiation Oncology, as ACR is the oldest, most recognizable demonstration of quality for the Radiation Oncology community. The Department of Radiation Oncology at Upstate has been continuously accredited by the ACR since 1998, demonstrating the highest practice standards upon peer-review evaluation of its practice. Evaluations are conducted by physicians and physicists who are experts in their field. They assess the qualifications of the personnel, adequacy of facility equipment, as well as quality assessment and improvement activities.
---
Bone Marrow Transplant Program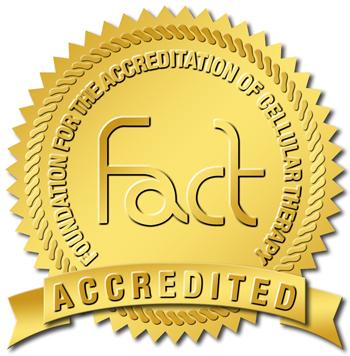 The Bone Marrow Transplant Program at Upstate University Hospital has been accredited by the Foundation for the Accreditation of Cellular Therapy (FACT) for the past 10 years. Over 800 bone marrow transplants have been performed for conditions such as non-Hodgkin lymphoma, multiple myeloma, leukemia and select solid tumors. The program performs both autologous and matched-related allogeneic transplants.
This multidisciplinary program works closely with the clinical apheresis service, cryopreservation laboratory, social services, nursing, dietary and radiation oncology for the management of transplant patients. The transplant program coordinates the management of patients both pre- and post-transplant, as well as during the transplant admission.
The transplant team actively participates in the Center for International Blood and Marrow Transplant Research (CIBMTR), Alliance Clinical Trials, Blood and Marrow Transplant Clinical Trials Network (BMT CTN), National Marrow Donor Program (NMDP) and pharmaceutical research studies.
---
Breast Cancer Program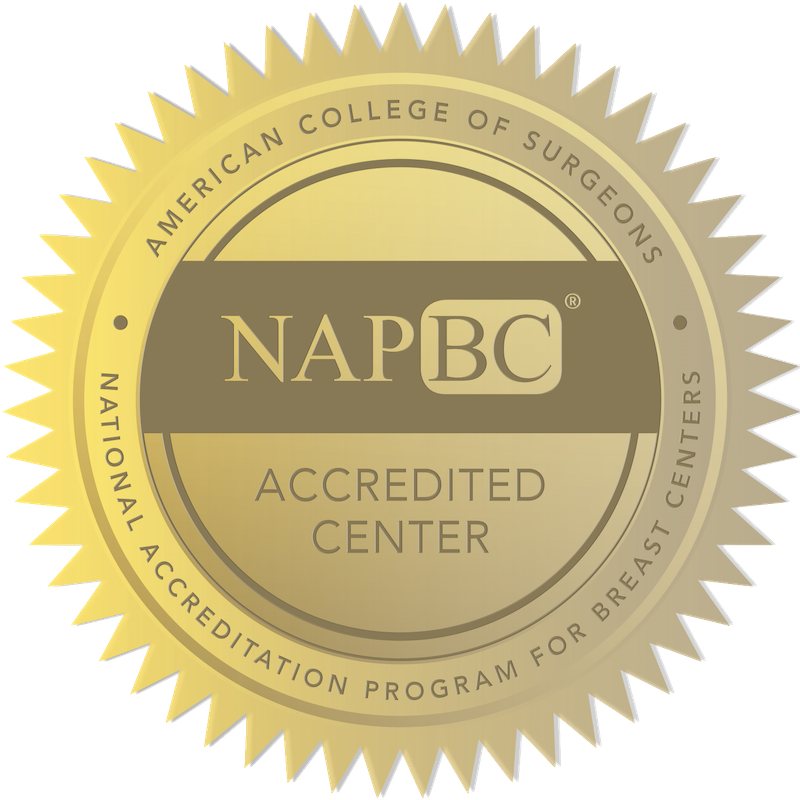 The comprehensive Breast Cancer Program at Upstate is fully accredited by the National Accreditation Program for Breast Centers (NAPBC), a program administered by the American College of Surgeons.
NAPBC accreditation is granted to centers that have voluntarily committed to provide the highest level of quality breast care and that undergo a rigorous evaluation process and review of their performance. A breast center that achieves NAPBC accreditation has demonstrated a firm commitment to offer its patients every significant advantage in their battle against breast disease.
Upstate achieved compliance in all 27 areas of review by NAPBC, reflecting excellence in diagnostic imaging, radiation oncology, nursing, support and rehabilitation, reconstructive surgery, community outreach, research and quality.
Upstate's Breast Care Program offers services at two locations: at Upstate's Downtown Campus at 550 Harrison Street, Syracuse, and on the Community Campus at 4900 Broad Road, Syracuse. It averages about 10,000 patient visits annually and offers an array of services that includes radiologic imaging, lymphedema treatment, lactation assistance, surgery, as well as specialized programs for breast cancer and benign breast diseases.
The NAPBC is a consortium of professional organizations dedicated to the improvement of the quality of care and monitoring of outcomes of patients with diseases of the breast. This mission is pursued through standard-setting, scientific validation, and patient and professional education. Its board membership includes professionals from 15 national organizations that reflect the full spectrum of breast care.
---
Programs to Reduce Cancer Risk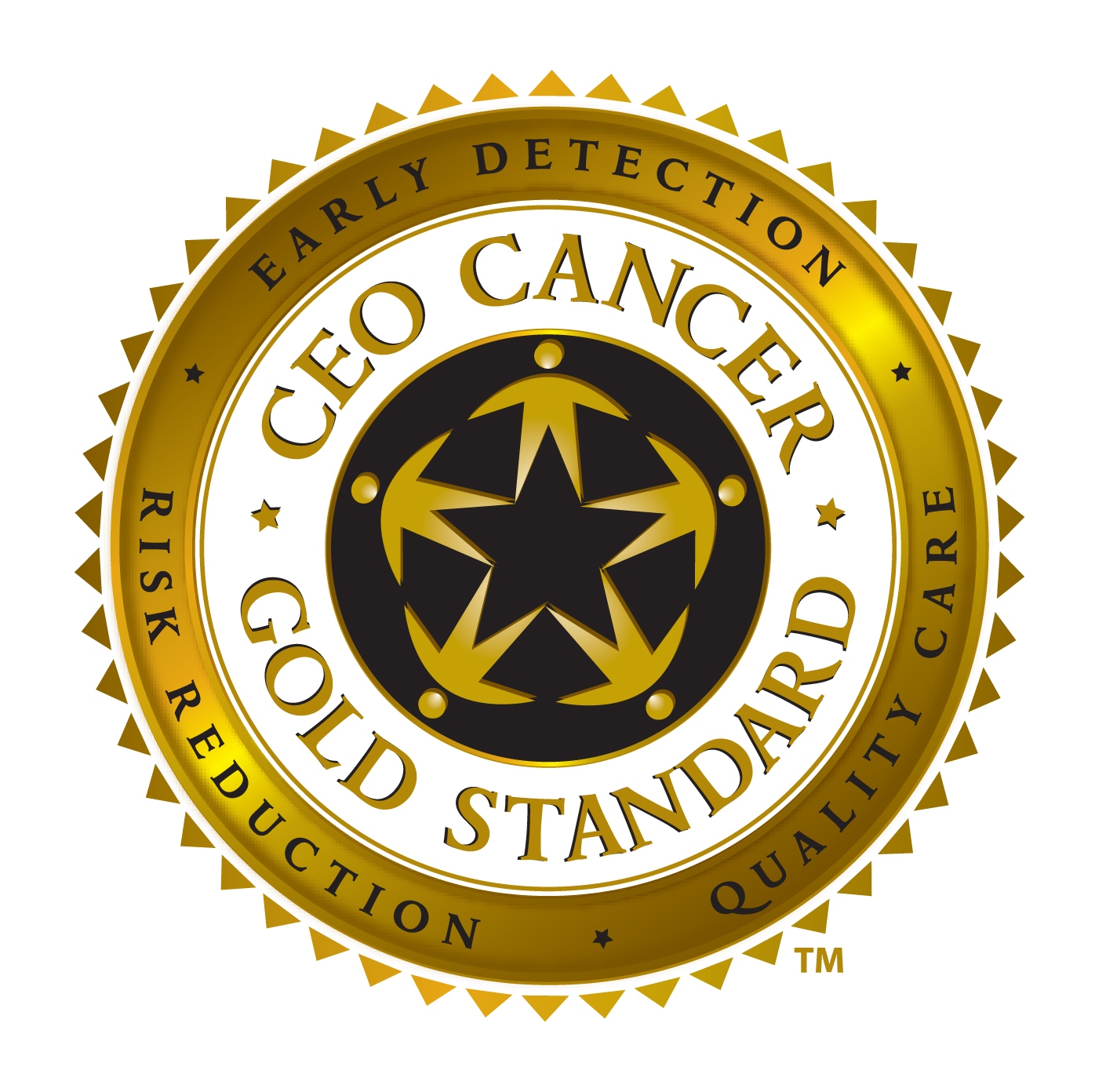 Upstate Medical University has recently been awarded the CEO Cancer Gold StandardTM accreditation for its efforts to reduce the risk of cancer for its employees and covered family members by promoting healthy lifestyle choices, encouraging early detection through cancer screenings, and ensuring access to quality treatment.
The CEO Roundtable on Cancer, a nonprofit organization of CEOs founded in 2001 by former President George H.W. Bush, created the CEO Cancer Gold Standard in collaboration with the National Cancer Institute, many of its designated cancer centers, and leading nonprofit, health organizations. The Gold Standard calls for companies to evaluate their health benefits and corporate culture and take extensive, concrete actions in five key areas of health and wellness to reduce the risk of cancer in the workplace.
To earn Gold Standard accreditation, a company must establish programs to reduce cancer risk by discouraging tobacco use; encouraging physical activity; promoting healthy diet and nutrition; detecting cancer at its earliest stages; and providing access to quality care, including participation in clinical trials. Today, over four million employees and family members are benefiting from the vision and leadership of the over 150 employers who have chosen to become Gold Standard accredited.
In addition to the National Cancer Institute (NCI) and Centers for Disease Control and Prevention (CDC), fifteen NCI-designated cancer centers and over forty other hospitals and medical centers have earned Gold Standard accreditation.
---