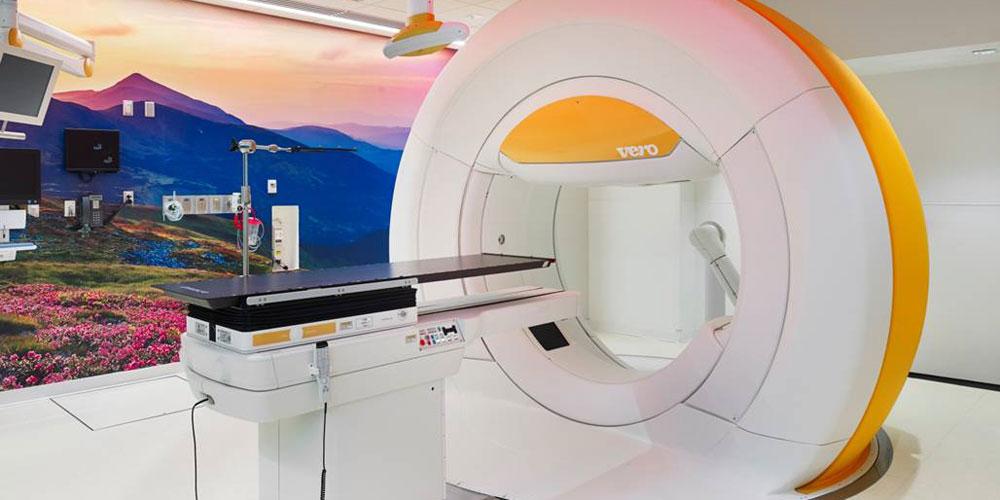 Latest Technology and Treatments
Should a patient need treatment, Upstate's Prostate Cancer Program has the latest and most advanced technology and treatment options available in the region.
Upstate utilizes the only 3-tesla MRI in Central New York, which provides excellent visualization of the prostate.
In a process known as fusion MRI ultrasound biopsy, different sources of information from technology such as the 3-tesla are fused together allowing for more precise diagnosis.
The Upstate Cancer Center houses the next generation of advanced radiotherapy technology with Varian TrueBeam and Vero SBRT. Vero offers unsurpassed precision with built-in 3D imaging along with 4D therapy—the ability to track and follow tumors. These latest radiotherapy options bolster Upstate's existing list of treatment technology that includes Tomotherapy, Calypso, and RapidArc, giving Upstate the greatest depth and breadth of radiotherapy treatment options in the region. Along with Upstate's real-time prostate brachytherapy (seed implant) program, these advances allow customized treatment for every patient—with the hope of greater cure rates and fewer side effects
UroNav
Upstate is also home to UroNav, a leading-edge technology that fuses MRI and ultrasound images to give doctors greater accuracy in finding and targeting cancerous lesions in the prostate.
UroNoav allows doctors to harness the information gathered by an MRI and pinpoint exact locations of difficult to find prostate cancers.
In a process known as fusion MRI ultrasound biopsy, sophisticated software algorithms fuse the ultrasound and MRI information, creating a comprehensive picture of the prostate. This allows for a more specific, targeted area for biopsy.
The technology incorporates precise knowledge of the needle location within the prostate, and using a technology similar to GPS navigation it directs the biopsy needle to the heart of the of the suspicious lesion.
Compared with the traditional biopsy technique that uses random prostate sampling, the new technology helps to avoid missing hard-to-find and often aggressive prostate cancer, and potentially helps to give greater certainty as to the extent and aggressiveness of the disease. Combined with the most modern MRI imaging (available only at Upstate) it also allows patients to avoid unnecessary repeat prostate biopsies.
With the UroNav fusion platform, patients at Upstate can now make more informed decisions from prostate cancer diagnosis to treatment options, such as active surveillance or more radical interventions.
SpaceOAR Hydrogel
SpaceOAR® Hydrogel is an absorbable hydrogel that temporarily moves the rectum away from the prostate and the high intensity radiation zone. This extra space should both reduce rectal complications and injury caused by radiation, and allow the clinician to focus on their main objective – killing the cancer.