Binghamton Clinical Campus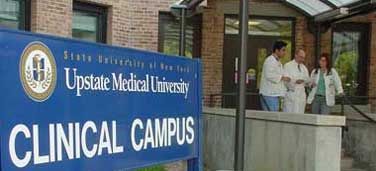 The Binghamton Clinical Campus was established as a branch campus of the College of Medicine in 1976. Although the Clinical Campus is community-based (clinical facilities are not University-owned), Binghamton students spend similar amounts of time in hospitals on their rotations, including a month at the Guthrie Clinic in Sayre, PA.
The Binghamton campus fosters close working relationships with physicians in their own practice settings. The Family Medicine clerkship is one half-day a week for 42 weeks. This allows students continuity with patients in their assigned physician's office.
This program is equivalent to the block rotation family medicine clerkship in Syracuse. Binghamton students also take a block rotation Geriatrics clerkship in their fourth year.
Clinical Affiliates
Through its clinical affiliates, the Binghamton program offers nearly the same required clerkships as the Syracuse program. The affiliates are United Health Services Hospitals and a network of family care centers.
Clinical Facilities
The administrative home of the Clinical Campus offers state-of-the-art office and classroom facilities, a student lounge with kitchen facilities and recreational equipment, computers, printers and copiers.
The Clinical Campus also maintains satellite offices at Wilson Memorial Hospital and at Robert Packer Hospital/Guthrie Clinic.
Students who spend their third and fourth years in Binghamton live off campus and are responsible for their own transportation. Staff help students find housing. Students at Binghamton elect their own class officers and plan activities.
For a glimpse at social and recreational activities popular among SUNY Upstate's Binghamton students, check out "Things to do in Binghamton"