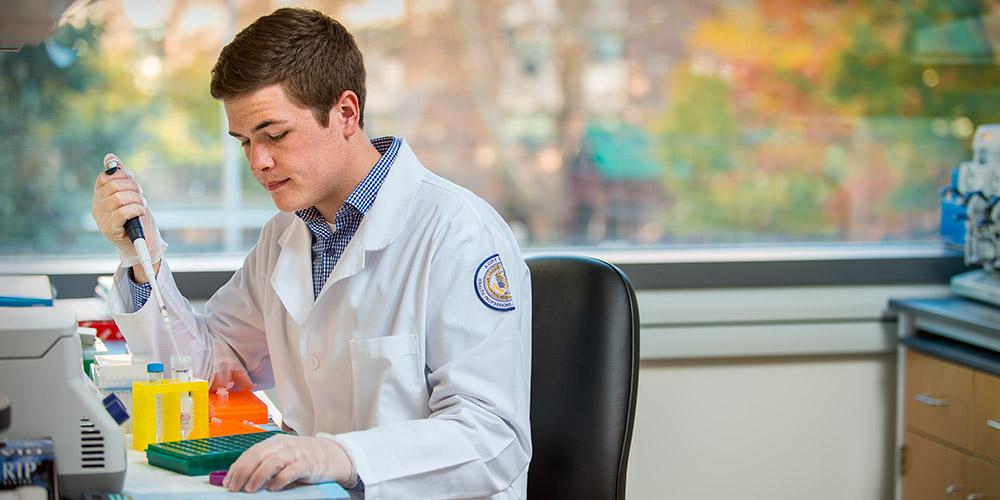 SUNY Upstate conducts more than $40 million in funded research covering hundreds of basic science and clinical research projects. The university has positioned itself as a top-tier research enterprise in areas such as vision, cancer, neuroscience and stem cell research.
Our College of Medicine students who are interested in research have a variety of options, ranging from combined programs such as the MD/PhD to individual elective courses.
Here's a sampling:
MD/PhD: a seven-year program combining medical school and graduate studies in the biomedical sciences. Students enjoy a full tuition waiver and a competitive stipend.
Summer Research: opportunities at Upstate and elsewhere, for academic credit or a stipend.
Electives: a choice of many research-oriented electives for third- and fourth-year medical students.
College of Medicine At A Glance
Degrees Offered
Masters of Public Health (MPH)
Certificate of Advanced Study in Public Health
Doctor of Medicine (MD)
Doctor of Medicine/Doctor of Philosophy (MD/PhD)
Doctor of Medicine/Master of Public Health (MD/MPH)
Enrollment: 685
Faculty: 2,265
Full-time: 525
Part-time: 222
Volunteer: 1,518
Residency Match: 98.7%
USMLE Pass Rates
Step 1: 95%
(2017 data)
Step 2: 98%
(2018 data)
Annual Tuition
$38,250
(New York residents)
$63,260
(out-of-state residents)
Financial Aid
About 85% of students share more than $20 million