ONE STUDENT'S STORY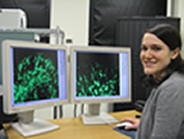 Anna Nichols
Class of 2012

'Striking a Balance' in the MD/PhD Program
With two years of medical school and a doctorate from Upstate already on her resume, MD/PhD student Anna Nichols (pictured above) has transitioned to the final two clinical years of the program. Nichols will earn a dual MD/PhD degree, and start on a career that she hopes will "strike a balance" between research and clinical practice. Read more...
Content
Center for Civic Engagement
Our College of Medicine students are involved in a variety of outreach and volunteer activities. These provide them experiences outside of the hospital and an opportunity to help the community.
That "community" can be a few blocks away at a school... or the next county over in a migrant worker camp... or halfway around the world at a free clinic-wherever help is needed.
Our Center for Civic Engagement office is part of the Division of Student Affairs, located in Weiskotten Hall.
SUNY Upstate medical students-like this group from the summer of 2008-see patients every summer and early fall in the migrant clinic program at farms throughout Central New York.