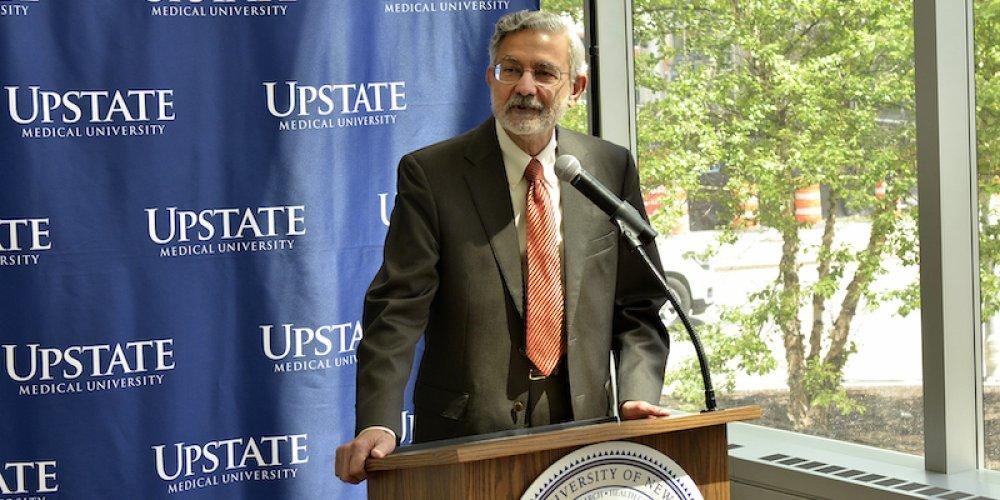 Upstate president named to SUNY task force to address statewide health care workforce shortage
Upstate Medical University President Mantosh Dewan, MD, has been as a member of the SUNY-wide Future of Health Care Workforce Task Force.
The task force will focus on expanding SUNY's educational capacity in health care profession shortage areas, strengthening the pipeline of students in professions that have been hit hardest, and aligning education with health care industry needs. 
"The ongoing shortage of health care professionals poses a significant long-term threat to our state's ability to provide high-quality care to New Yorkers, and SUNY is a key part of the solution. As such, we must take immediate and concerted steps to ensure the availability of a highly trained, diverse, and sustainable health care workforce," said SUNY Chancellor John B. King, Jr., in an announcing the formation of the task force. "One step, which has already been taken thanks to Governor Hochul and our legislative partners, is to provide nursing students the opportunity to complete one-third of their clinical work in a high-quality simulated environment, which will further enhance their success. Through the input of this task force, SUNY will continue to advocate for expanded innovation for this life-saving industry." 
On his appointment, Dewan said: "I'm grateful to Chancellor King for creating this pivotal Future of Health Care Workforce Task Force, and I am pleased to join this panel with so many of my visionary colleagues. As an academic medical center, Upstate sees the shortage from all sides as we train the health care workforce of tomorrow and care for our patients today. I am confident that with this initiative, SUNY can be part of the solution in addressing this shortage and creating a more robust health care workforce."   
In addition to Dewan, task force members include: 
SUNY Board Trustee Eric Corngold 
SUNY Board Trustee Robert J. Duffy 
Dr. Harvey Stenger, Binghamton University, President 
Dr. Allison Brashear, MD, MBA, University at Buffalo, Vice President for Health Sciences and Dean of Jacobs School of Medicine and Biomedical Sciences  
Dr. Heidi MacPherson, SUNY Brockport, President 
Dr. Tony Hawkins, SUNY Broome, President 
Dr. Wayne Riley, MD, SUNY Downstate Health Sciences University, President 
Dr. DeAnna Burt-Nanna, Monroe Community College, President  
Dr. Harold Paz, Stony Brook University, Executive Vice President for Health Sciences and Chief Executive Officer of Stony Brook University Medicine 
Dr. Belinda Miles, SUNY Westchester Community College, President 
Workgroups within the task force will represent higher education, health care providers and associations, workforce and continuing education, simulation experts, and more. Where applicable, the task force will consult with national experts, organized labor organizations, state agencies, and students.  
The United States Bureau of Labor Statistics reports that overall employment in health care occupations is projected to grow much faster than the average for all occupations from 2021 to 2031. With a 7.5% share of total health care employment across the nation, New York ranks third among all U.S. states in health care workforce contribution, positioning the state to experience a more pronounced impact from a shortage of health care professionals.