Medical Records, Access Anywhere
Upstate MyChart is your secure, online health connection. Take control of your health! Because your health is important to you around the clock—not just during office hours.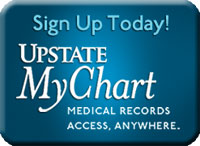 We know you're thinking about your health—and your children's, and your partner's, and your parents. Make it a little easier with Upstate MyChart, so you have instant access to your family's health information as well as your own. Everything from your child's immunization record to mom's meds, all available from your computer, smart phone or tablet.
With MyChart you can securely:
Review your Upstate lab test results
Request or cancel an appointment
Refill your medications
Send a message to your provider
Access your list of medications
Access your immunization records
Track your vital signs
Review your family medical records
Upstate MyChart is available exclusively to Upstate patients. Whether you regularly see an Upstate physician, or count on Upstate for your lab or imaging tests, your information can be accessed via MyChart.
There's an App For That
If you have an iPad or an iPhone or Android smart phone, you can access your MyChart account via the MyChart "app." So wherever you are, you have easy access to your information. Just go to your App Store select Upstate MyChart and install.