Expand all
Academic Affairs Office – Weight loss success/healthier lifestyle in past 9 months
Sara LaPointe shares successes in Lifestyle changes
Theresa Hankin-Successful weight loss, eating and exercise lifestyle during a challenging year
Brittanee Cerio- August Taste and Try Success 43 varieties
Lleda McCurty- Top August Taste and Try Challenger 66 varieties
Lori Ferguson
What lifestyle changes have you made?
There have been many, for example, exercise has been a much bigger focus in my life recently. I bought a FitBit a few years ago and that has been a large impact in my life, especially with getting more steps in per day. I did a written journal for a while and now I use a food tracker on my phone (My Fitness Pal), it helps me keep track of calories, and it has a pie chart of how many carbs and proteins I've had to determine how I stand nutrition wise at the end of the day. It also helps me eat better not only for myself but for my husband and son.
What made you decide to make the changes?
It was about 5-6 years ago, my aunt passed away from complication from diabetes.  I went to a doctor after she past and they told me I was on my way to having diabetes as well. I knew at that moment I needed to change my lifestyle so I would not have to go through what my aunt went through. I started to lose weight and have lost 70 pounds over the past few years. It has been slow but I have been able to keep the weight off. 
What keeps you successful at your changes?
The death of my aunt had a big impact and therefore I am always mindful of that. My family motivates me to stay healthy as well.
Has the Pathway to Wellness helped you in any way to achieve your healthier lifestyle?
Yes, some of the programs that PTW offers. I walk every day at lunch time-my lunch time differs everyday so I usually cannot go with the Monday Mile group but I still walk by myself everyday to get in the physical activity. My department also does salad bowl lunch days, in which everyone brings in one aspect of a salad and it turns into a nice huge and healthy lunch.
What was the most difficult to change?
I am half Italian and my family always ate a lot of pasta, so that was difficult to control. Also, family celebrations always revolved around food. Therefore, meal planning, portion control and knowing that if I plan to eat a few more calories one day, to increase my exercise amount were all ways to help control those urges and still be able to enjoy family time. Additionally, with meal planning we plan the week in advance and if we know we are going to eat out and maybe eat a little unhealthy we make sure the rest of the meals are health for the week.
What was easier than you expected?
Maintenance has been easier than I thought it would be but only because of the knowledge of what I have gained throughout this experience. I know now the right kinds of food to eat and how much to eat while staying physically active, which has helped me keep off the weight.
What is your plan to continue your healthy lifestyle?
I would like to lose a little more weight but at least to maintain and carry on what I have been doing. I want to get my friends and family more involved with hiking, biking or kayaking. I think I need to do more cardio, join a gym or change up the routine in some way to help with those last few pounds and maintenance.
James "J" Peacock, Education Program Administrator, Pediatrics
What lifestyle changes have you made?
I am certainly eating better.  I walk every day to and from the parking lot (I-Lot). I joined the CAB and do the Fitness Boot Camp twice a week.  I take the stairs rather than the elevator, and I cut back on portions for breakfast and lunch.
What made you decide to make the change?
Looking back, there were a number of things that were happening in my life that I had very little control over. I needed something that I could control; something I knew would be a positive step forward and that would make me feel better about myself. 
The breaking point came one morning in late November, when I decided to walk up the stairs from the lobby to my office.  When I reached the 4th floor landing, I had to stop and catch my breath.  I knew I was out of shape and needed to lose weight, but I didn't think it was that bad.  It was then that I decided I was going to do something about it.
Like many people with families, busy work and life commitments, I depended on quick meals (not always healthy meals) to eat.  I had coached hockey for 37 years and now my coaching ice hockey career was over.  
I was approximately 230 lbs and set a goal to lose 50 lbs.  Initially, I dropped about 30 pounds. I hit a couple of plateaus where I couldn't lose any weight, and now it has started to fall off again.  I have stayed committed and reached my goal weight just this past weekend, September 12.  
What keeps you successful at your changes?
My wife and colleagues at work has been extremely complementary, encouraging me along the way.  I watch the scale frequently and have decreased my weight 45-50 pounds.  The big thing is that I feel great and can last longer doing strenuous activity that I could ten years ago.
I have purchased new suits and pants and have given away the clothes that don't fit me anymore.  It is too expensive to do that again. So there is a financial investment now.
There are some funny things that have happened since I have lost weight.  I am a DIYer around the house.  Since I have lost so much weight, my work pants don't fit me very well.  I am constantly up and down ladders or crawling under the house to fix or replace something.  My wife has to remind me to put a belt on so I don't put a show on for the neighbors.  She claims the plumbers in the area have nothing on me.
Has the Pathway to Wellness helped you in any way to achieve your healthier lifestyle?
I haven't been involved with Pathways to Wellness.  I have joined the CAB.  I am the type of individual who needs a challenge, works well with others, and also needs someone to push him. The fitness boot camp has been great for that.  I am pretty sure I am the oldest regular in the program. Most of the participants are younger than both of my children, so they push me pretty hard for being the old man of the group.
What was the most difficult to change?
I love to eat, especially breakfast. I tried a couple of diets (Atkins, South Beach) and couldn't make them work. So, I stopped eating two meals a day.  I know that is not what you are supposed to do.  It was easier to do that than picking and choosing what to eat and what not to eat.  After I lost 30 lbs I began picking and choosing.  That has been hard.  I cut out the things that I knew would add unnecessary calories, such as breads, potatoes (carbs), candy, ice cream, and beer. I definitely miss the ice cream (a staple for me) and a cold beer with friends on a hot day.  Water quenches the thirst, but I have to say a cold beer with friends is almost a necessity.   (Note from Suzanne, James hit the nail on the head with making healthy choices daily.  Those healthy choices will help keep the weight off. Choosing healthy is not always easy at first.)
What was easier than you expected?
The simple changes.  The walking into work.  Walking takes no more time than riding the shuttle.  Taking the stairs takes less time than riding the elevator.  I just needed to make some small changes to get started. 
I park quite far (I Lot) from the hospital and have been walking to and from my car each day.  It was tough at first to get used to it, but now it is almost automatic.  The difference is only a couple of minutes walking vs taking the shuttle. Sometimes, I have actually gotten to work sooner walking than when the shuttle would have gotten me to work.
What is your plan to continue your healthy lifestyle?
I haven't really thought too much about it yet.  I just reached my goal.   I will keep doing what I have been doing for the last 9 months.  I can't go back to the way I was.  It just isn't healthy and it is not as much fun.
Mark Miller, Orthopedic Surgery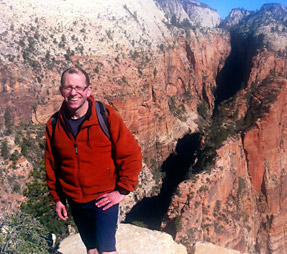 What lifestyle changes have you made?
Awareness of how my choices in nutrition, exercise, and sleep affect my well-being is my biggest change in my lifestyle. Over the past 6 months, I have logged my caloric intake. I realized that I was deficient in nutrients and started taking a once a day vitamin. I also learned how I consumed excess calories per day and reduced my caloric intake. I have lost 10 pounds. The past 2 months I have recorded my exercise and heart rate using a Fitbit. Through the use of this device, I became aware how sedentary my work was. Now I take the stairs whenever possible. I take small walks and climb stairs throughout the day. I park the car further from the store. I commute to work by bike several times per week. I'm now aware that every activity through the day helps with my overall wellness
What made you decide to make the changes?
Virgin Pulse Health Program, a wellness incentive program, has motivated me to get healthier. I knew I needed to be healthier, and the financial rewards given by Virgin Pulse were like dangling a carrot in front me. Virgin Pulse is a win-win program for me.
What keeps you successful at your changes?
By logging the information, it demands your awareness and attention. I get snapshots of my current situation that extend over time, and then see the results of making healthy choices. For example, I enjoy seeing my Fitbit activity level daily. Interestingly, my activity levels have increased through the last 2 months of using the Fitbit. One exciting result is the drop in my resting heart rate most likely do to the increase in activity. The outcomes are motivating!
Has the Pathway to Wellness helped you in any way to achieve your healthier lifestyle?
Virgin Pulse offered me the gateway to a better lifestyle. Pathway to Wellness programs will keep me in step with my goals of achieving wellness.
How did the Virgin Health Program influence you?
I was able to purchase a Fitbit with the bonuses from Virgin Pulse Health Program.   I had always wanted a heart rate monitor and pedometer, but never wanted to spend money on the device.  With Virgin Pulse I bought the device and now obtain more information about my health.
What was the most difficult to change?
The lack of sleep is my biggest challenge.  My Fitbit logs the amount and the level of my sleep.  Even though I see my deficit in the amount of sleep, I can't get myself into bed earlier.
What was easier than you expected?
The whole process has been easy and fun, and I feel better.  My change is like a self-fulfilling prophecy.
What is your plan to continue your healthy lifestyle?
Record my wellness information.......React with goals to improve.....Reassess how my goals are affecting my wellness and Relax feeling good about my choices.
---
William Nichols, Clinical Pathology-Histocompatibility
What lifestyle changes have you made?
My wife, Suzette, and I started changing our lifestyle in October 2013. We cut our junk food and added very healthy foods. Our diet now consists of mostly fresh vegetables (lots of bell peppers, carrots, celery, cucumbers, broccoli and squash) and lean protein (chicken, fish, turkey, and pork loin). We usually have to plates with our dinner. One large plate with all our veggies (dressing is on the side in a condiment cup and we dip our fork in it, balsamic vinaigrette made with mostly water and a small amount of olive oil) and a very small plate with our protein. Snacks consist air popped popcorn and a few spritzes of spray butter or cheese powder, fresh fruit, or the occasional couple cookies.
For exercise, honestly 95% of the weight was lost WALKING. We would go out for walks. We stay moving. We do this every day. I am able to run 4 miles easily now but it was almost totally done just walking!
What made you decide to make the changes?
I always knew I had to make a change. I knew my diet was terrible. I knew I was lazy. My wife always asked me to make a change. I finally said to myself that the time is now. If I didn't make a change I was not going to be around for my wife and 4 kids.
What keeps you successful at your changes?
To be honest the thing that keeps me successful for over a year now is how great I feel. I can be active with my family. I can play basketball with my kids without feeling tired after 5 minutes. I can hike the high peaks in the ADK Mountains. I don't have to take high blood pressure medicine anymore. I can do simple stuff like tying my shoes without becoming red in the face. I can run for long distances without hearing my heartbeat in my ear! I feel great.
Has the Pathway to Wellness helped you in any way to achieve your healthier lifestyle?
I started my lifestyle change before I knew about Pathway to Wellness or Healthy Monday but now I look at the  Healthy Monday newsletter every Monday. I look at the recipes and try them. My coworkers and I did the Walktober Challenge and we won the small group portion! There is a great deal of information there for people to use with Healthy Monday and Pathway to Wellness.
What was the most difficult to change?
The most difficult part was in my mind deciding to start and convincing myself to try to succeed. I am 5'10'' tall and weighed 262 lbs with a 42 inch waist and wore 2XL shirts. I always thought I was just going to be big. I finally said I have to try for myself and my family.
What was easier than you expected?
I was very surprised how easy it was. I am a gadget guy. I used apps on my iPhone to track my diet and weight, how far I walk or run and my times, and a FitBit to track my steps. I use these everyday! I weighed myself once a week at the same day and time. The first couple weeks a lost 5 pounds and was like wow! Is this really working? Then I would lose 7 lbs and was amazed. I would get mad at my old self and saw why in the H did I wait so long?!?!?
What is your plan to continue your healthy lifestyle?
My plan is to follow my diet and stay active. Walk every day, don't flop on the couch and watch TV for hours. Eat good food. I can't eat the old, bad food I used to eat. It makes me feel terrible. I am not lazy anymore. I want to be around a long time for my kids and wife.
It is as simple as keep moving and eat good food. No fancy diets. No gym memberships. Everyone knows what to do. Just put your mind to it. I went from 262#, 42 waist, 2xl shirts to 181#, 33 inch waist, medium shirts and I feel unbelievable. I will never go back! If I did it, anyone can. Just make up your mind to start!
Shayna Greene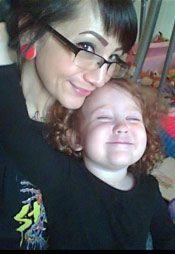 What lifestyle changes have you made?
The lifestyle changes I have made to get on the road to a better quality of life are: eating smarter (counting calories, carbs, sugar, and fat,) eating smaller portions, eating slower, eating mindfully, and staying away from the bad areas at the grocery store. I am also a huge advocate of not drinking empty calories. I am a believer of fitting in some activity for at least 20 minutes a day; whether it be walking the halls and climbing the stairs at work, or playing with my daughter at home. I try to not just sit around. Lastly, I quit smoking! I will celebrate my 5 year smoke-free anniversary in May 2015.
What made you decide to make the changes in the first place?
Learning that I was going to be a Mom. When I was pregnant, I was diagnosed with gestational diabetes. That diagnosis kind of scared me. Diabetes runs rampant in my family on both my Mom and Dad's side. My grandfather surrendered to a horrible fight against diabetes. It was hard to see him in such an awful condition. Needless to say, I wanted to do what I could to take preventative measures. Not only have I learned how to be healthy through proper food consumption, I know how to teach my daughter right from wrong in hopes of her having longevity and a great quality of life.
What keeps you motivated?
Seeing my progress. I've lost 115 lbs. I started at a size 20 and I am now a size 4! I have so much more energy. I feel motivated to do things that I was otherwise just too lazy to do when I was less healthy. I also sleep so much better - I fall asleep faster and have restful nights. I feel comfortable now...I might even go as far as to say I feel pretty. I have so much more confidence.
What was the most difficult to change?
My eating habits. Quitting smoking was so much easier than getting my poor eating habits under control. I was very greedy when it came to food and portion sizes. I used to grab big portions and eat it all - no matter how full I felt. Food really ruled my life...to the point where I would eat fast just so I could fill my plate again. So glad I got it together. I have control over the food now.
What it easier than you expected?
Overall, the process of getting health was easy! I think once I made up my mind that this was something I wanted and needed to do, it became second nature.
What is your plan to continue your healthy lifestyle?
To keep myself in check. I serve on the Pathway to Wellness Committee and represent Community Campus. I like to lead by example. I can't tell people that this is how to manage your weight while I'm stuffing Twinkies down my throat behind my computer. What you eat in secret, you wear in public. I also participate in Smart Moves. I have an amazing support system at home. My dad has lost nearly 90 lbs, my brother has lost about 50 lbs, my sister-in-law has lost 140 lbs, and my fiance has lost 70 lbs. I have great motivation at home. Motivation from others has helped me during my rough times. Just remember, you have the ultimate last word on how to treat your body. You only have one body, so do it some good!
Has the Pathway to Wellness helped you in any way to achieve your healthier lifestyle?
Yes! Each challenge makes you aware of the small areas in your life that you might not otherwise think about...stretching, marching during commercials, eating leafy greens once a day, 20 minutes of daily activity, etc.
Emily Pellizzeri
What lifestyle changes have you made?
I have added exercise and healthier eating everyday.
What made you decide to make the changes in the first place?
I was tired all the time, and just not feeling all that great.
What keeps you motivated?
My FITBIT! I am a very competitive person, so I like to have a competition against my friends to get more steps in everyday. Walktober, a walking challenge that happens during October, also REALLY got me motivated to get moving.
What was the most difficult to change?
Cutting back cheeses and breads! Being a vegetarian, these were my go to foods. I really wasn't consuming enough protein, and that was my biggest issue.
What was easier than you expected?
Adding exercise. I don't HAVE to go to the gym. I am able to do simple stuff around the house.
What is your plan to continue your healthy lifestyle?
I will continue to track my foods with myfitnesspal.com and exercise. Tracking the food really does help you to realize how many calories and fats are in food. I also cook more at home instead of eating out.
Has the Pathway to Wellness helped you in any way to achieve your healthier lifestyle?
YES! My friend Sonja had been doing the program, and told me about it. I found Suzanne's enthusiasm and materials a huge help. It's good for me to have someone to report to and helps you to keep it up! It also helped having a partner to go to the meetings with.
Deborah Rexine, Educational Communications
What made you decide to quit smoking?
My children were bugging me to quit smoking and my son said, "Mom you lied, you didn't quit." From that day, we set a date and I have continued to be a non-smoker for 3 ½ years.
How many years did you smoke before you quit?
I had been smoking 30 years before I decided to quit.
How many times did you quit before you were successful?
I only quit when I was pregnant for the health of my children. That quit lasted almost a year.
How do you avoid relapsing? Are there situations you avoid?
I don't avoid the situation. Facing situations makes it easier. My mantra is "The only way out is through." I went to www.quitnet.com for tips and advice. Also, cigarettes are only allowed in a few places now, and they are expensive.
What part of quitting has been easier than you thought?
Realizing that I am the same person without cigarettes has been easier than I thought it would be. I thought not smoking would change me.
What part has been more difficult?
The hardest part was to imagine my life without cigarettes; I thought I was going to miss out on something.
How has your health improved since you quit smoking?
Since I quit smoking I exercise. I started to walk, and that wasn't enough, so I started to run. I joined the CAB and in June I ran my first 5K.
What keeps you motivated to stay quit?
My health, my children, and living a more enjoyable life without cigarettes keeps me motivated.
What advice would you give someone who is trying to quit smoking?
Believe in yourself and know that it is possible. It is not easy, and the decision for me is simple, just stop. Also, seek support. You will have good days and bad days; however the bad days won't last long. Mind over matter.
David Wloch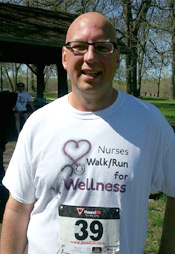 When did you decide you wanted to make a lifestyle change?
Well, it was in January of 2013, when I was diagnosed with sleep apnea.
What changes did you make?
I joined the gym and changed my diet habits.
What was the hardest to change?
The hardest thing to change was diet. Eating the right things and not snacking at night. Going out to eat was another challenge. I cannot remember the last time I ate out.
What was easier than you thought?
It was easier than I thought to cook my food. I pretty much eat chicken 2x a day, every day so I just cook a family pack of chicken 2 times a week.
How did it change your life?
I am sleeping better. My snoring has stopped. That makes my wife happy.
What keeps your motivated to stay with your changes?
I am not falling asleep at all times like I was prior to these healthy changes. I was always doing the head bob while driving home.
Suzanne's note:
I just ran in to David at the JP Morgan Corporate Challenge. He has gotten 15 pounds healthier since the photo taken at the Nurses Run. David continues to run more road races and has had his nieces challenge him for the next road race!