PDF/Schedule_20_03March.PDF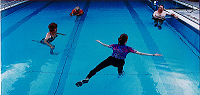 The aquatics program is ideal for individuals with chronic pain, limited range of motion, or those who have difficulty with traditional exercise weight-bearing activity.
Classes feature instructor-led movements while also being tailored to participants' specific needs and limitations. A variety of aquatic exercise equipment is utilized to both individualize the exercises and to add variety and interest to each class.
Facilities:
The aquatics program is held in a 25-meter, temperature controlled pool at 86 degrees with a floor that can adjust between zero (dry) and seven feet in depth. The pool has a ramp designed for wheelchairs and people with mobility limitations. With a wide array of aquatic equipment and certified aquatic staff, the water program can be modified for most ability levels! 
Hours of Operation:
Classes are 50 minutes in duration and are held on Tuesdays and Thursdays.
Cost:
Participation in the aquatic program is $45 per month
Participation in the aquatic and land program combined is $70 per month
Additional offerings at Vitality with no additional cost:
Fitness assessments prior to the start of your participation in the exercise classes to include balance and flexibility assessments
Optional participation in Doctoral of Physical Therapy student assessments, exercise prescription, and testing
Increased access to join research studies