The Vitality Fitness Programs recognize the importance of regular physical activity that incorporates cardiovascular and strength exercises among all age groups and ability levels.
The Vitality program is especially beneficial for those participants who are interested in exercising, but feel they need direction for safety, health, or accountability needs. Exercise Physiologists will develop an exercise program specific to the participants' goals, limitations and needs. Staff instructs proper setup and form on various equipment and are available throughout the sessions to answer any questions regarding exercise, thus allowing for a safer exercise environment.
Hours of Operation
Classes are an hour in length. Participants may choose to attend Mondays and Wednesdays or Tuesdays and Thursdays at the below session times: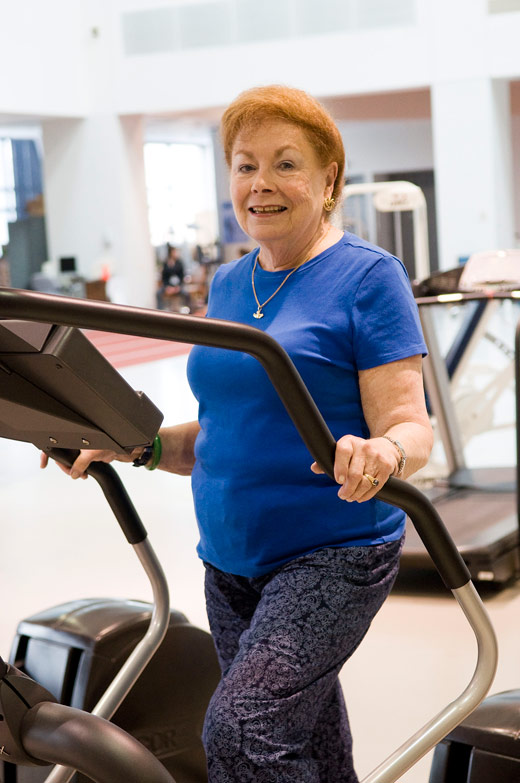 Cost
Participation is based on amount of sessions offered in the month; $7 per session typically equates to about $56 per month.
Payments are made two months at a time
Entry into the program includes review of health history, fitness assessment, individualized exercise program with four one on one sessions with Vitality staff to help you gain independence in navigating your new exercise program, along with adjustments as needed. This cost is $100. 
Fitness Assessments
Initial fitness assessment is performed by trained staff
Completed at the start of exercise program, 3 months after your start and annually to monitor improvements and adjust goals and exercise program
Assessment includes balance, strength, flexibility, aerobic endurance, agility and coordination
Additional offerings at Vitality with no additional cost as opportunities arise can include assessments, exercise programming, and testing performed by Doctoral of Physical Therapy students at Upstate Medical University. We are building an virtual exercise library for Vitality participants, and have research studies on occasion.