International Rotation Opportunity
Reconstructive Urology Fellows at SUNY Upstate have an opportunity for an international surgical rotation. Thanks to Mr. Woodin who generously established a Reconstructive Fellows' International Rotation Fund, our Fellows are able to spend one week performing reconstructive surgeries under the guidance of world-renowned surgeons abroad. 
Starting in November 2021 our Fellows have visited Dr. Erick Ramirez-Perez and Dr. Damian Lopez in Mexico and performed numerous complex reconstructive surgeries with them in Mexico City, Merida and Monterrey.
Other international opportunities and locations are being planned.
Previous Fellowship Experiences
Joshua Sterling (2021-2022)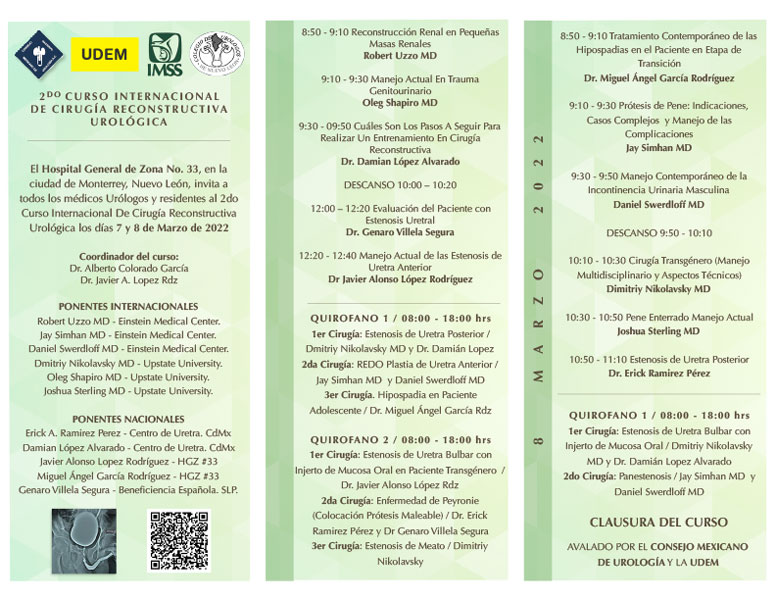 Presentation - Triptico Curso Internacional De Cirugía Reconstructiva Urologica
The international away elective made possible by Mr. Woodin is an unforgettable experience which fosters relationships both foreign and domestic, provides a surgical service to a region seriously lacking in reconstructive urologists, and is a lot of fun.
Through this trip I built professional relationships and expanded the number of urologists I call mentors, both of which I lean on as a new reconstructive attending. I was taken out of my personal and clinical comfort zones and needed to adapt to match the facilities and resources available without compromising clinical care. I have no doubts that I am a better surgeon and physician after completing this elective rotation.
In addition to the numerous professional benefits, I made lifelong friendships with amazing people I would have never known otherwise.