At Upstate University Hospital the Triage and Transfer Center Nurses provide the logistics of incoming transfers to Upstate University Hospital. A referring facility will call and present the patient that they would like to send to Upstate for a higher level of care or specialty service that we provide.
Key Points
Transfer Center line answered 24 hour a day.
Handle all acute transfer requests, including pediatrics for the Upstate Golisano Children's Hospital
Quickly connect referring physicians with our specialty physicians to expedite the transfer of care of your patient. Our Transfer Center nurse will stay on the line to expedite the next steps in the transfer process
Transfer nurses will secure a bed in the appropriate unit
Our nurses will keep you informed of your patient's status throughout the process
Peer reviewed, monthly quality assurance, with the participation and support of the departments's medical director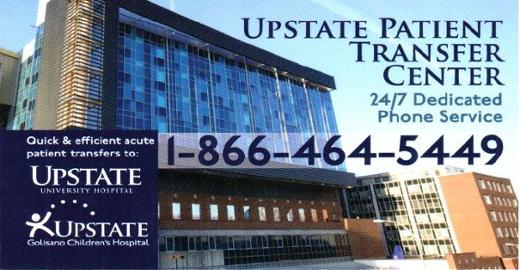 Transfer Process Checklist
When calling, please be prepared to discuss:
Patient's demographic information
We will need a face sheet faxed to us as soon as possible to verify spelling of name and date of birth. Fax patient's face sheet to 315-464-4843
Reason for transfer request
Patient's presenting condition
Summarize the care provided so far
Your recommendations for the patient's care
Existing infection control concerns
Special needs (interpreter, bariatric equipment)
Status of patient (full code, DNR)
Whether or not the patient is septic
Upstate Campuses and Addresses
Upstate Downtown Campus
750 East Adams Street
Syracuse, NY 13210
(315) 464-5540


Upstate at Community Campus
4900 Broad Road
Syracuse, NY 13215
(315) 492-5011

To transfer a patient to the Golisano's Children's Hospital please call:
TRANSFER CENTER LINE 315-464-5449 or 1-800-543-KIDS(5437), BOTH NUMBERS RING INTO THE TRANSFER CENTER
New Processes to the Transfer Center
Images and diagnostic test results can be pushed to us through the PACS machine system if you have that capability. This allows the physicians to look at imaging before the patient arrives and cuts down on lost memory devices such as thumb drives and discs that may contain images
We are piloting an auto accept process in the ED's-If the patient is stable, needs a service that is available at Upstate University Hospital, and is coming by ground unit, we are able to automatically accept the patient to the ED. An encounter will be started in the electronic health record, and all of the information you share with the Transfer Center will be visible to the ED through the encounter. If you wish to speak to an ED attending about the patient we will facilitate that conversation. If the patient is unstable and/or coming in by helicopter, you are asked to speak to the ED attending.


Contact Upstate Transfer Center
Please be advised that this contact box is not for emergencies. The email that is generated from this contact box is not monitored 24 hours a day.