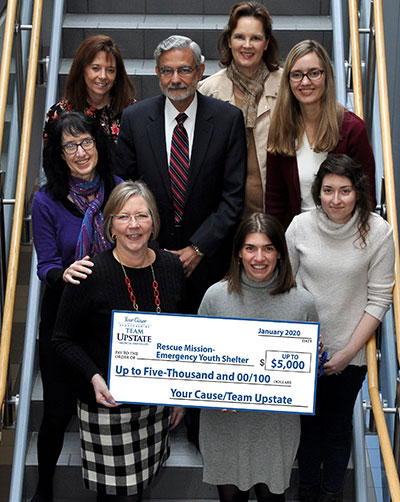 Each November, Upstate employees and students are encouraged to nominate a local non-profit organization whose mission is in line with the mission of Upstate. The selected organization will be Team Upstate's featured "Your Cause" organization for the year and will receive support for events, outreach, hands-on work and education. 
The 2023 Your Cause sponsorship is Francis House. Click here for the announcement  
Past "Your Cause" Sponsorships
Submission FAQs
Expand all
If my organization is selected, what are my specific duties and responsibilities?
You will be required to attend quarterly Team Upstate meetings and serve as a liaison between your organization and Team Upstate. You will also be required to recruit and organize Upstate volunteers for special events, if needed. The time commitment is approximately 20 hours for the entire year. 
I want to start a charity; can I use these funds?
Your Cause only funds established organizations.
Will my organization receive the funding up front?
Your organization will be reimbursed for expenses when the justification, tax exempt form and the original receipts are submitted.  If your organization holds an annual fund raiser a sponsorship can be requested.
We have an annual fundraiser. Can all the funding be used for that?
Up to 50% of the funding can be used for a sponsorship or special event.  The remainder of the funding can go unclaimed or can be used for projects that promote your organization's mission at the same time providing Upstate employees the opportunity to volunteer.
Is my organization a part the SEFA?
Please check the website at https://www.sefanys.org to determine if your organization is a part of SEFA.  If not, please be sure to enroll during the open enrollment period of 12/1/2018 to 1/31/2019.