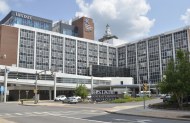 Thoracic Surgery Clinic - Surgical Specialties
Upstate University Hospital
Map & directions
4835
750 East Adams Street, Syracuse, NY 13210
Phone:
315 464-1800
Fax:
315 464-6252
---
Upstate Medical University Thoracic Surgeons are specialists with training and experience in diseases that affect the lungs, esophagus, and other organs in the chest. We treat a wide variety of common conditions, such as cancers of the lung and esophagus, reflux, swallowing problems, and disorders of the chest bones, as well as rarer diseases, such as Achalasia and unusual chest tumors.
We offer cutting edge treatment options including Minimally Invasive and Robotic Surgery which tend to result in faster recovery time, less pain, shorter hospital stays, and few complications.
In addition, our Thoracic Oncology Program (TOP), at the Upstate Cancer Center, offers a team approach to treating thoracic cancers including lung cancer, esophageal cancer, mesothelioma, mediastinal tumors, thymoma, malignant pleural effusion, and cancers metastatic to the chest.