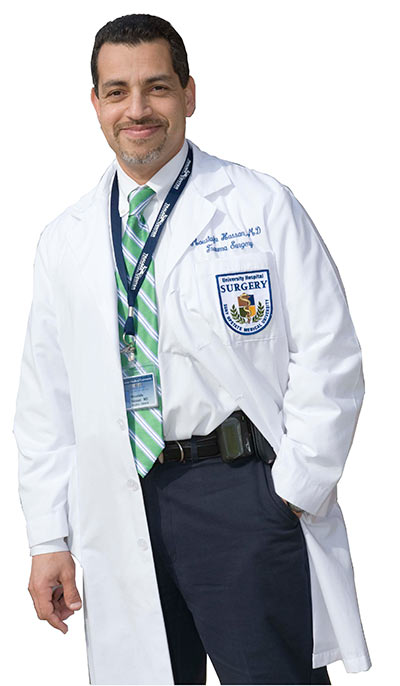 Trauma surgeons are experts in repairing complex hernias
Acute care surgeons at Upstate, who have extensive trauma experience, have developed expertise in complex hernia repair, explains Moustafa Hassan, MD , director of Acute Care Surgery at Upstate.
Hernias develop when part of an organ protrudes from the wall of the cavity where it is contained. A fistula is an abnormal connection between hollow or tubular organs or the body surface.
"We offer individualized treatment of different types of hernias based on each patient's specific need and circumstance," Hassan says.
Surgeons may offer traditional or open surgery, minimally-invasive laparoscopic surgery, or robotic-assisted laparoscopic surgery for hernia repair. They select the most appropriate reinforcement material for each patient — some receive mesh implants, while others will receive biological tissue grafts.
"The ultimate repair of the hernia is to be able to bring the patient's muscles back together again, to give the patient the ability to function and move around, and also to reinforce the repair, usually from the undersurface. We assume at this point that the muscle is not strong enough and a hernia can occur again, so reinforcement is very important."
Like many services at Upstate, care provided to hernia patients is multidisciplinary. Patients are likely to see not only their surgeon but also physical therapists, plastic surgeons, patient navigators and nutritionists.