From the Program Director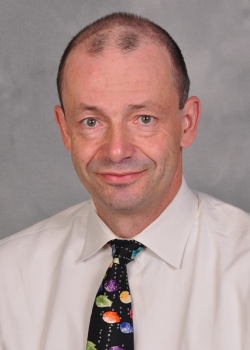 Andreas H. Meier, MDDr. med MEd
Program Director
General Surgery
Residency
Based on the recommendations from multiple national organizations and our own institution we will continue with virtual interviews for our residency programs during the 2022/23 application cycle. Please look here for additional information.
At Upstate Medical University, we strive to make our residency the preferred and most competitive academic General Surgery training program within Central New York.
The General Surgery Residency program at SUNY Upstate has its mission to "develop residents into well-rounded, compassionate and proficient surgeons by providing them with a comprehensive and nurturing learning environment". Our program is structured in a way that allows the individual trainee to choose either an academic career path or to be successful in private practice.
In 2018 the RRC approved our program to increase the categorical resident complement to 6 per year.
I think this approval is a reflection of the significant effort by our department's leadership and faculty to make the residency an outstanding educational experience.
Both Dr Cooney, the chair of our Department and myself feel very strongly that a surgical residency program has to emphasize the educational component over service. We review our program every year looking at areas where we can further improve surgical education within the residency. We are very proud that our residents play a major role in directing and shaping the educational agenda. 
Upstate Medical University is part of the much larger SUNY system; we are the only Level I Trauma Center in central New York and we were the first trauma center in the state of New York that achieved both adult and pediatric trauma center accreditation from the American College of Surgeons. Currently our institution has the largest trauma center in the state of New York based on treated adult and pediatric patients.
We provide almost all General Surgery training experiences within the city of Syracuse.  It is not necessary for any resident to rotate away from their home or family. Opportunities do exist however, for senior residents who elect rotations elsewhere. Just this year we have added a one month rotation at the PGY III level in Auburn which is about 40 minutes by car.
Our program has the great advantage of utilizing each of four hospitals in Syracuse: Upstate Medical University Hospital, Syracuse Veterans Administration (VA) Medical Center, Crouse Hospital, and Upstate University Hospital at Community Campus. This variety of work offers our residents a different experience including private practice in General Surgery, Colorectal Surgery and Vascular Surgery. Upstate offers the tertiary care perspective and the VA offers the advantage of a resident led team approach to a wide variety of General, Thoracic and Vascular patients.
Our department has undergone significant growth over the last few years and this trend continues. We have added additional faculty to all divisions within the surgery department and the process is ongoing. The campus at Community Hospital is a rapidly expanding venue for the Department of Surgery.
Upstate's state of the art Cancer Center is one of the most advanced cancer centers in the country. Besides the top notch clinical care provided there it also opens avenues for basic and translational research for interested residents.
Even though our Department provides learning opportunities in nearly all surgical disciplines, it remains small enough to allow for good mentorship between faculty and each resident. We strive to hire only faculty with strong interest or background in medical student and resident education. Our faculty members take their teaching responsibilities very seriously. Many of our residents have won teaching awards from the medical students. I am proud to state that the surgical clerkship at our institution has had the highest ratings of ALL clerkships for the last few years!
We get to know you personally, as well as professionally. Each resident has a faculty advisor and we encourage all residents to meet with them on a quarterly basis. It is our goal to help each of you attain the career of your choice and be as great as you can possibly be. We are very proud of all our graduates and the fact that many of them have matched into highly competitive fellowships. You can see the career choices of our graduates here. Another sign that our graduates consider our program a success is the fact that many of them have returned to join our faculty as fellowship-trained attendings.
Our department continues to make great efforts to optimize the educational experience for our trainees. We have established curriculum and simulation committees, both with participation of residents. Please refer to our didactic educational program for more detailed information. We have a senior resident as a wellness champion and organize wellness events throughout the year. As of October 2020 Dr Matt Hanlon, a transplant surgeon who graduated from our general surgery program has taken on the role of Associate Program Director for Wellness to further strengthen our efforts in this domain.
As an academic program we encourage scholarly activity. We do not require that you take time off for research, but we provide opportunities to do so. Currently we have three basic science research laboratories within the Department. We are very open to research projects related to outcomes and quality, and have multiple faculty members with expertise in this field. We also offer external research experiences for residents with specific research interests. Currently we have residents in research laboratories at the NIH and at McGill University in Montreal, Canada. The research areas these residents are involved in include surgical oncology and pediatric surgery. Our commitment to providing outstanding research opportunities has resulted in very successful matches into competitive fellowships. Two of our 2022 graduating chief residents started their Pediatric Surgery fellowships in August, which is considered one of the most competitive fellowships.
Let me say a few words about our community. My family relocated to the area in 2012, however, I have noticed that many of our faculty and physicians in private practice have lived here for many years and consider this area a great place to live. Both rent and real estate are very affordable and convenient. Some of our residents own their homes within easy commuting distance, others rent apartments that are available close to the hospitals.
Central New York is very family friendly. Local school districts are excellent. There is a thriving music and theater scene. Syracuse University and LeMoyne College are close to downtown and they do attract a variety of rock bands. The nearby Turning Stone Casino and Resort have almost weekly national headline acts. Sporting events are readily available as well. We have professional baseball and hockey teams in town. Syracuse University has very competitive basketball, football and lacrosse teams. Be prepared to wear orange when you move here!
For the outdoor enthusiast, the area provides three decent ski areas close by. Cross country skiing and snow shoeing are readily available. There are hundreds of miles of trails and country roads in the area for running, hiking, cycling and mountain biking. Lake Ontario can be reached in little more than an hour as can the St. Lawrence Seaway. The Adirondack Mountains are within an easy morning's drive. Lake Placid can be reached in 3 hours.
New York City is only a 4-5 hour drive. Boston is about 5 hours and even Montreal, a truly international city is about 5-6 hours, and Toronto is even closer. There are good train connections to these nearby urban centers as well.
I am certain you can find both professional and personal satisfaction here with us at the SUNY Upstate Medical University Department of Surgery. I truly look forward to meeting you!
Andreas H Meier, MD, Dr. med MEd FACS FAAP
Michael and Rissa Professor of Surgery and Pediatrics
General Surgery Residency Program Director
Vice Chair for Education, Department of Surgery