OUR Upstate Strategic Plan | Tier 2
The OUR Upstate One University Road map Strategic Plan uses the balanced scorecard framework and is considered a tiered-system.
Tier 1 refers to the entire institution
Tier 2 represents business units (e.g. colleges, departments, and programs)
Tier 3 aligns with an individual's role.
Working together, the tiered plans connect the organizational and unit priorities in support of each other. The Tier 1 institutional plan guides the priorities and activities of the entire organization. Tier 2 plans align with the organizational plan but are more specific and actionable to the priorities of the area. Tier 3 provides the opportunity for each person to align with and contribute to the success of their area and the overall organization. The long-term vision is for a sustainable and relevant over-arching organizational strategic plan that every area and individual can use to align their work. 
The Office of the President facilitates the strategic planning process based on the balanced scorecard framework, and the business units are responsible for developing and implementing aligned Strategic Plans. A number of Tier 2 plans have been developed and launched.
All Tier 2 plans replicate the balanced scorecard framework and involve a strategy map. Two formats may be used for a Tier 2 Strategy map – business unit specific or an aligned strategy map. A business unit specific strategy map reflects an in-depth strategic planning process designed to create specific strategies and objectives relevant to business area. An aligned strategy map identifies Tier 1 objectives that the business unit is focused on impacting. Both formats reflect processes that support the institutional plan, involve identification of performance measures and strategic initiatives specific to the area, and result in plans actionable and relevant to the business unit.
Tier 2 Strategic Planning
This document fully explains the institutionally supported formats and process for Tier 2 Strategic Plans.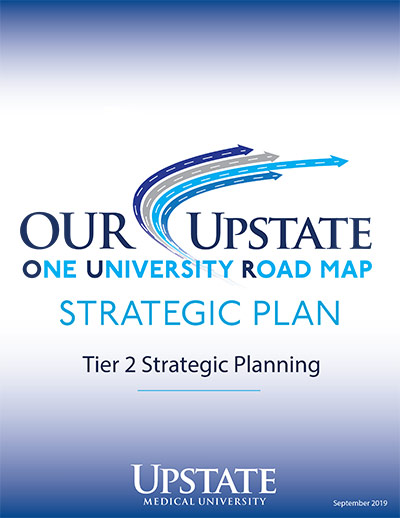 Download Tier 2 Strategic Planning
For more information or assistance with creating a Tier 2 Strategic Plan for your business unit, please contact Sarah Trapani, Strategic Planning Project Manager, at 315-464-7869 or trapanis@upstate.edu.