Staff
Rev. Terry Ruth Culbertson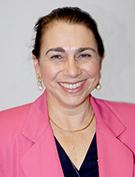 'Rev. Terry' is a native of Baltimore, MD. She was an illustrator for the State Police before receiving her call to ministry. She completed her MDIV at Drew Theological and clinical pastoral internships and a residency in acute care and mental health before moving to Syracuse in 1979 to become the Director of Pastoral Care the Syracuse Area Interreligious Council. She is ordained in the Church of God (Anderson), is a Board Certified Chaplain in the Association of Professional Chaplains, a certified Clinical Pastoral Education Supervisor and Certified Thanatologist. She has worked for over 30 years in long term care, hospice, corrections, acute care and psychiatry. God called her to Upstate in the fall of 2003 to serve as the first manager of Spiritual Care.
Bob Crandall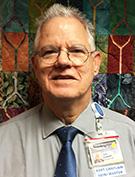 Bob Crandall grew up in Rochester, New York and worked for Niagara Mohawk/Constellation for 35 years as an electrician and then as a system engineer. He has a BS from Clarkson University. He was a volunteer firefighter for 40 years and taught fire prevention and counseled juvenile fire setters in Oswego County. In 2009 he became a Master in Reiki therapy. He came to Upstate Medical Center in 2011 as a volunteer in the Spiritual Care Department providing Reiki to patients as part of his volunteer work. He has taken two units of Clinical Pastoral Education and is now an Assistant Chaplain in the department. In January 2018, he was hired by the Department of Spiritual Care as the Reiki team coordinator. The Reiki team of volunteers provides Reiki to patients, out-patients and caregivers.
Rev. Jane E. Dasher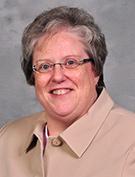 Rev. Dasher began as the fulltime Pediatric Chaplain on January 17, 2013. She served as chaplain at Sisters of Charity Hospital/St. Joseph Campus in Cheektowaga, NY prior to her appointment at Upstate. Rev. Dasher previously served as a chaplain with Niagara Hospice, Mercy Hospital (So. Buffalo), and Prince William Hospital in Manassas, Virginia. She also served as a pastor in Presbyterian (USA) churches in Niagara Falls, Bethesda, MD, Manassas, VA and Wilmington, NC, and in Lutheran (ELCA) churches in East Amherst and Elma, NY.
Brigid Dunn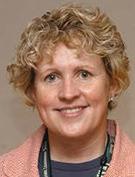 Brigid Dunn grew up in Orchard Park, NY. A graduate of Le Moyne College, she taught at her alma mater as an adjunct professor in the Gender Studies Department. After college, she spent two years in the Jesuit Volunteer Corps and then earned a Master of Divinity (M.Div.) at Yale. She has been a grant writer, campus minister, development officer, teacher and chaplain. Brigid became Board Certified by the Association of Professional Chaplains in 2015. She resides in Fayetteville with her husband and their two daughters.
Deacon Dare Dutter
Deacon Dare Dutter, MS, MS, CAS, Diocesan Chaplain, has been ordained to the diaconate for three years and is the Deacon at Holy Cross Church in Dewitt. He has completed one unit of Clinical Pastoral Education and is going into his third year as the Diocesan Chaplain at Upstate University Hospital. He is working on certification as a chaplain through the National Association of Catholic Chaplains and plans on taking more units of CPE. In a previous life, Deacon Dutter was a school administrator and teacher for 33 years in the Syracuse City Schools. While he has no real hobbies, he is an excellent yo-yo artist, and can stand on his head for several minutes before becoming disoriented- no small feat, if you ask him.
Sister Mary Anuli Emebo
Sister Mary Anulichukwu is originally from Nigeria. She belongs to the Sisters of the Immaculate Heart of Mary Mother of Christ. She moved to the United States of America in 1999. She has been working as a chaplain since 2001 and was board certified with the National Association of Catholic Chaplains in 2009. She recently moved from Alaska where she worked with Providence Health System. Sister joined Upstate in July 2016 as a Deputy chaplain and Supervisory education student.
Father Eric Malcom
Fr. Eric Malcom came to Upstate Medical University in May of 2019. After completing four units of CPE he was hired as the Palliative Care Chaplain. Prior to coming to Upstate, Fr. Eric was an instructor at Holy Trinity Seminary in Jordanville, NY. He completed an M.Div. at Saint Tikhon's Orthodox Seminary in South Canaan, PA. His background includes serving as a Chaplain in the United States Army Reserves. He was ordained as a priest in the Russian Orthodox Church in 2011. A native of Montana, Fr. Eric enjoys fishing and hiking.
Father Robert Hyde
Fr. Robert Hyde was born in Concord, MA and raised in Acton, MA, Grosse Pointe Farms, MI, Darien, CT, and Cazenovia, NY. He graduated from Portsmouth Abbey School in Portsmouth, RI in 1978 and St. Lawrence University in 1982. Fr. Robert studied Clinical Pastoral Education at Goldwater Memorial Hospital, New York in 1982. He completed his seminary studies at the Theological College of Catholic University, Washington, DC and was ordained in 1988. Fr. Hyde has served in various parishes and was a Chaplain at Crouse Hospital 2004-2008, He is currently the pastor of St. Margaret's Church in Mattydale, NY and is an On-Call Chaplain at Crouse, Upstate, St. Joseph's, and the Syracuse VA hospitals.
Rev. Gerry McKeon, S.J.
Rev. Gerry McKeon is a Jesuit priest from northern New Jersey. He attended the College of the Holy Cross in Worcester, MA. He has served as a chaplain at Ithaca College and Cornell University and on the staff of Eastern Point retreat house in Gloucester, MA.
Rev. Dr. Ejike Innocent Onyenagubo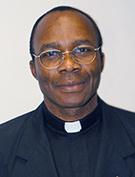 Father Innocent is a native of Nigeria and an ordained Roman Catholic priest. He has been in Syracuse since 1999, and most recently served as Parochial Vicar at Immaculate Heart of Mary in Liverpool. Fr. Innocent is a graduate of Upstate's Clinical Pastoral Education training program, where he interned in neurology, oncology and cardiology. He is certified as a Chaplain in the National Association of Catholic Chaplains. Father Innocent became the first full-time Catholic priest at Upstate in 2008. He also is Roman Catholic Chaplain at Hutchings Psychiatric Center.
Rev. Msgr. Francis Osei-Nyarko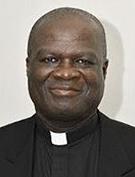 Fr. Msgr. Francis Osei-Nyarko is an ordained Roman Catholic priest from Ghana. He completed one unit of CPE in the summer of 2016. He is currently the priest at St. Rose of Lima Church in North Syracuse.
Rev. Joseph M. Smythe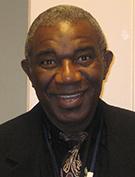 Joseph M Smythe began at Upstate as a volunteer Chaplain in October 2007 and was subsequently hired as a weekend Chaplain in March 2009. He became Board Certified Chaplain in the Association for Professional Chaplains in 2009. A jovial person, he can be heard laughing on the halls with staff, visitors and patients especially on Saturday when he works. On Tuesdays he sings with the hospital choir. Joseph hails from Jamaica and appreciates the friends who continue to support his ministry. Joseph is one of the two chaplains with a Church of God Anderson background at Upstate. Joseph is married to Claudette who earned her doctorate at Syracuse University.
Rev. Lou Sogliuzzo, S.J.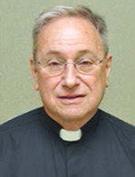 Rev. Lou Sogliuzzo is a Jesuit priest. He is a member of the Jesuit community at LeMoyne College and is on the staff at the Spiritual Renewal Center. He entered the Jesuits in 1979 and was ordained at Fordham University in 1987.
Rev. Dr. Severine Yagaza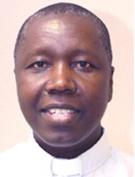 Fr. Severine Yagaza is an ordained Roman Catholic priest. He serves Upstate as an on-call priest Chaplain. He is a native of Tanzania. He completed four units of Clinical Pastoral Education at Upstate. He holds an Ed.D. from Binghamton University. He serves as Parochial Vicar at St. Matthew's Parish in East Syracuse as well as Priest Chaplain at St. Joseph's Hospital in Syracuse. His wonderful smile lights up a room!