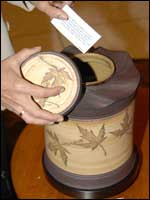 A prayer wheel, created by potter Chris Moench of Billingham, Washington, who takes the concept from Tibetan Buddhist tradition, is now part of University Hospital's Chapel and the Golisano Children's Hospital Treehouse Chapel. The wheels are decorated with items from nature, such as leaves and sit on a small turntable. People place written prayers into the prayer wheel and then it is gently spun. Each revolution is counted as an uttered prayer.
You are invited to write your prayer request to be prayed for by University Hospital's Intensive Prayer Circle (IPC). The IPC is made up of a number of area religious congregations who join with us weekly to pray for your special prayer intentions. In addition to spinning the prayers in the wheel, the university's Intensive Prayer Circle reads them aloud during weekly prayer services and then distributes them to various congregations in the community.
Your prayer requests will be offered with the utmost respect and confidentiality. For your privacy, confidential details or names do not have to be included. Prayer requests can be submitted by:
Filling out the prayer request cards found in the University Hospital Chapel or the Golisano Children's Hospital Treehouse Chapel. Place the card in the prayer wheel in the Chapel, or give it to your chaplain.
Calling the Department of Spiritual Care at 315 464-4687.
Emailing the Intensive Prayer Circle (intensiveprayercircle@gmail.com).