In Vivo Computed-Tomography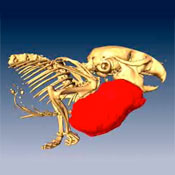 Core:
In vivo Computed-Tomography
Core Director:
Andrzej Krol, PhD
Core Technical Operator
: Susan Hemingway, BSC, CRA, CCRP
Core Technical Operator
Phone Number:
315 464-5099
Phone:
315 464-7054
Lab Phone Number:
315 464-5097
Location:
4143 (DLAR) Weiskotten Hall
Email:
krola@upstate.edu
Website:
In Vivo Micro_CT
Brief Description of Core: Non-invasive, high resolution (down to 27microns) imaging of living animals (mice and rats). The same animal can be imaged over time in lateral studies that monitor the progression of disease or the response to therapy. In vitro samples can also be imaged with high resolution.
Instrumentation in Core
MicroCat II® Micro-Computed Tomography Scanner
Anesthesia machine (during scans, animals are anesthetized)
MouseOx® for continuous monitoring of arterial oxygen saturation, pulse rate and breath rate in small animals
Workstation with Amira® image processing and 3D visualization software >
Ultrafast tomographic reconstruction with Exxim COBRA® software
Core Fee Schedule: contact Susan Hemingway for pricing.
How to Access Core Services: Call or email director or technical operator.