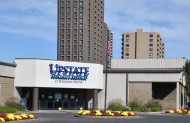 Women's Imaging
Upstate Specialty Services at Harrison Center
Map & directions
Suite D
550 Harrison Street, Syracuse, NY 13202
Phone:
315 464-2582
Fax:
315 464-7411
Office Hours:
Monday-Friday 7:00am-4:30pm. We accommodate walk-ins with a physician's order/script for a mammogram. Open the third Saturday each month, 8am-12pm for screening mammograms only. Scheduling Phone: 315 464-2588
---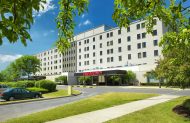 Wellspring Breast Care Center
Upstate Community Hospital
Map & directions
Physician Office Building South
4900 Broad Road, Syracuse, NY 13215
Phone:
315 492-5007
Fax:
315 492-5299
Office Hours:
Mon-Fri, 7:30am-5:00pm; Open second Sat of each month from 8:00am-12:00pm for Screening Mammography only. For appointments: (315) 492-5702
---
Women's Imaging is comprised of a skilled team of radiologists and specialty trained technologists combined with state-of-the-art technology to offer patients the most advanced imaging services. We perform all obstetrical, gynecological and breast imaging studies in a private, comfortable setting.
Upstate University Hospital now offers 3D mammography, called tomosynthesis, which may appeal especially to women with dense breasts.
Services include:
3D tomosynthesis
Digital mammography
Breast MRI
Breast PET/PEM
Breast biopsies
Breast imaging
Bone mineral density studies
Breast, obstetric and gynecological and general ultrasounds
General diagnostic imaging
Our radiologists, sonographers, and mammographers are experienced professionals working together to coordinate our patients' imaging needs, whether routine or high risk.
The equipment, procedures and personnel at Women's Imaging are fully accredited by The American College of Radiology and our radiologists are board certified by The American College of Radiology.
---
Women's Imaging Team
Radiology: Women's Imaging Section, Diagnostic Division
3 providers are found.