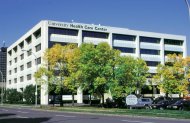 Ultrasound - General/OB/Vascular
Upstate Community Hospital
4900 Broad Road
Syracuse, NY 13215
Google Maps & Directions
Phone:
315 492-5191
Fax:
315 492-5212
Diagnostic ultrasound (sonography) uses high frequency sound waves to visualize anatomy. State-of-the art imaging equipment allows visualization of minute tissue detail and vascular structures with precision for more accurate diagnosis.
Imaging studies range from gall bladder and obstetrics to intricate biopsies that rely on ultrasound guidance, including:
Breast
Liver
Renal
Thyroid
Prostate
Many biopsies, previously restricted to a hospital setting are now readily available as an outpatient procedure because of ultrasound.
Because image acquisition is complex and operator dependent, we rely on our expert team of medical sonographers, all specialty-trained and registered as Diagnostic Medical Sonographers (RDMS).
We are also proud of our Ultrasound Accreditation bestowed by the American College of Radiology for both of our clinical sites, University Hospital and the University Health Care Center.