Interventional/Neuro Radiology
Body Neuro/Interventional Radiology
Upstate University Hospital
3601,
750 East Adams Street
Syracuse, NY 13210
Map & directions
Phone:
315 464-8035
Fax:
315 464-5108
Hours:
M-F 7:00-4:00 p.m.
Interventional Radiology - Community Hospital
Upstate Community Hospital
4900 Broad Road
Syracuse, NY 13215
Map & directions
Phone:
315 492-5526
Fax:
315 492-5672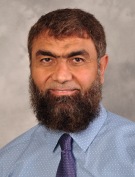 Mohammed Jawed, MD
Director, Vascular &
Interventional Radiology
The Divisions of Interventional Radiology (IR) and Neuro Radiology are staffed by board certified radiologists specifically trained in their select field of radiology. They are supported by a staff of technologists and nurses dedicated to providing our patients with the safest, highest quality, and most efficient care possible.
Many of the procedures we perform replace invasive surgeries, effectively shortening the patient's hospital stay and/or recovery time.
The IR/Neuro section is equipped with state-of-the-art angiographic suites, providing analog, digital, rotational, and 3D imaging.
Our equipment includes:
Siemen's Bi-plane Neurostar
Siemen's Single-Plane Angiostar and Multistar
Mini-vascular Room (currently under construction)
Interventional procedures include, but are not limited to:
Peripheral, abdominal, and thoracic angiography
Angioplasty, and stenting of vascular lesions,
Embolization of uterine fibroids/arteries, vascular anomalies and bleeds
Drainage of abscesses and abnormal fluid collections
Vascular access procedures (ports, dialysis catheters, PICC lines, etc)
Dialysis access evaluation and intervention
Radio frequency ablation of select tumors, and
Biopsies
Procedures performed by Neuro-Radiology include:
Cerebral/carotid/spinal angiography
Myelography
Biopsies
Embolizations of cerebral/spinal tumors and AVM's
Treatment of neuro-vascular lesions including aneurysms coiling