Diagnostic Radiology
Upstate Specialty Services at Harrison Center
Suite F
550 Harrison Street
Syracuse, NY 13202
Google Maps & Directions
Phone:
315 464-7700
Fax:
315 464-7730
Name:
Ann Scaramuzzino, Technical Director
| | |
| --- | --- |
| Hours: | Mon-Fri 7:00a.m.- 5:00p.m. |
Diagnostic Radiology - Community Hospital
Upstate Community Hospital
4900 Broad Road
Syracuse, NY 13215
Google Maps & Directions
Phone:
315 492-5526
Fax:
315 492-5672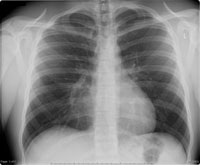 On November 8, 1895, German physics Wilhelm Conrad Roentgen (1845-1923) conducted experiments focused on light phenomena generated by discharging electrical current in vacuum glass tubes.
These trials led to the first discovery of "X-ray", a finding that the medical establishment immediately recognized as extraordinary and one that would forever change the face of medical diagnostics.
Radiography, or as it is most commonly known, an x-ray, is the oldest and most frequently used form of medical imaging and is the foundation for a myriad of applications that impact every medical specialty.
We possess a full compliment of imaging tools including:
Digital Radiography
Computed Radiography
Picture Archiving and Communications System (PACS)
(allowing clinicians to view radiographic images and reports online throughout the facility)
Our staff and services are available 24 hours a day, 7 days a week for our inpatients and Emergency Department patients, and during normal business hours for our outpatient population.
General Diagnostic Radiology at University Hospital can be divided into 4 specialties:
Plain Filmis the most common and and widely available type of x-ray; usually requiring no preparation on the patients part; and, can provide provide excellent information on the diagnosis and progression of many conditions.
GI/GUinvolves the imaging of the soft tissue abdominal organs; frequently engages the use of a contrast agent (X-ray dye) and/or the use of a fluoroscope.
Trauma and Emergency Department Radiologyspecializes in diagnostic imaging for patients with severe multi-system trauma.
ORimaging techniques and equipment designed to assist physicians during actual surgery