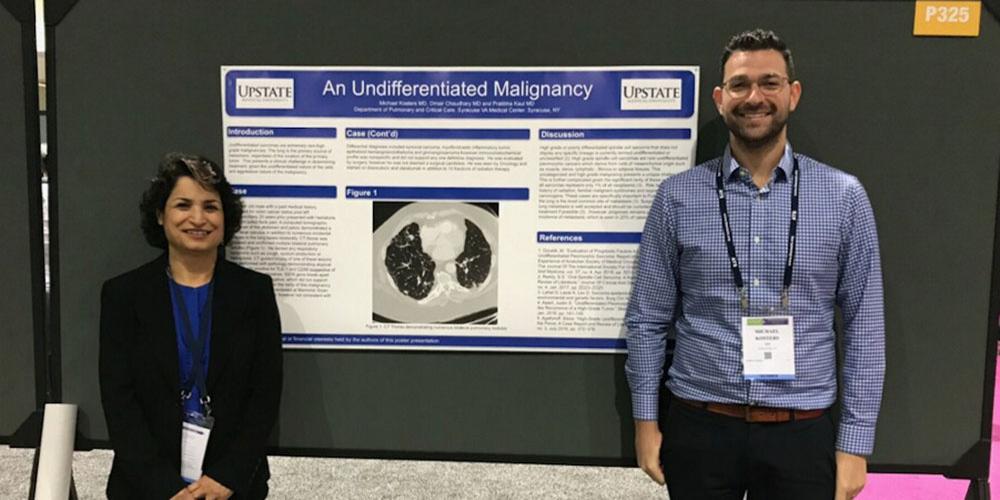 Pulmonary Critical Care and Sleep Medicine Educational Office
Upstate University Hospital
Rm. 2604,
750 East Adams Street
Syracuse, NY 13210
Map & directions
Phone:
315 464-4184
Fax:
315 464-6228
Name:
Andrea Hadcock
Email:
hadcocka@upstate.edu
Upstate's Pulmonary–Critical Care 3-year Fellowship is designed to give the fellow both clinical and research opportunities. It is our goal to train physicians to be competent clinical specialists. We have also structured the program to help prepare those who are so inclined for an academic career. Hence, the program is designed to give them a broad range of clinical experiences in both Pulmonary and Critical Care Medicine. In addition there is ample time for either a clinical or basic science project.
Title of Program
Pulmonary Critical Care Fellowship Program
Sponsor
State University of New York
Participating Institutions
Fellowship training in Pulmonary Critical Care is a three-year program, and successful completion of this training will allow candidates to be eligible for the certification examination in the subspecialty of Pulmonary Critical Care by the American Board of Internal Medicine.
Individuals interested in applying to our fellowship program should apply through Electronic Residency Application Service (ERAS) .
Please note the application deadline is August 10th.