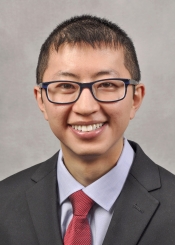 315 464-2345
Roger Wong, PhD, MPH, MSW
RESEARCH INTERESTS
1. Racial and ethnic disparities in Alzheimer's disease and related dementias (ADRD).
2. ADRD prevention through modifiable lifestyle behaviors (e.g. physical activity, smoking, social contacts, and sleep disturbances).
3. Recruitment and retention of underrepresented populations in ADRD research.
4. Impact of COVID-19 pandemic on older adults with and without ADRD.
ASSOCIATIONS / MEMBERSHIPS
American Public Health Association
EDUCATION
PhD:
Washington University, 2020, Public Health Sciences
MPH:
Washington University, 2015, MSW Dual Degree
BS:
Cornell University, 2012, Neurobiology and Behavior