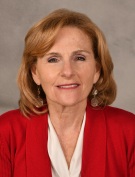 "People with diabetes have to watch their diet, exercise and take medication." According to professor Paula Trief PhD, consultant psychologist to University Hospital's Joslin Diabetes Center, diabetes is a disease where a merger of medicine and psychology can benefit patients. In the 1990s researchers found that patients with supportive partners fared better in adapting to the disease. "We wanted to take those findings further..." Read More >
We are a close-knit Department with a strong commitment to clinical care. Our psychiatrists, psychologists, nurses, and social workers work together to provide patients of all ages and backgrounds with excellent clinical services for their psychiatric and personal problems by utilizing therapeutic techniques most appropriate to the patients' needs whether biological, psychosocial, or a combination thereof.
Psychiatric services are offered at many levels of care, depending on each patient's needs and the severity of their illness. From inpatient programs that involve a brief hospital stay to outpatient services that vary in intensity and frequency of visits, patients receive a comprehensive evaluation and are directed to the most appropriate, least restrictive level of treatment. We work closely with our immediate neighboring institutions —Crouse Hospital, the Veteran's Administration Hospital, St. Joseph's Hospital and Hutchings Psychiatric Center.