PGY2 Clinical Experience & Didactics
The second year is divided into 13 rotation blocks, and are divided as follows:
3.5 blocks on our inpatient adult psychiatric unit at University Hospital (4B) or Community General Hospital (5W)
3.5 blocks Consult-Liaison Psychiatry, including child CL
1 block outpatient triage psychiatry as NPOD at the VA Medical Center
1 block of outpatient addiction psychiatry at Crouse Health's Outpatient clinic which includes services for dual diagnoses and Medication Assisted Therapy.
2 blocks of night float (broken into 4 2-week blocks)
1 block mixed rotation with forensic and geriatric exposure
1 block of a selective
During this year, residents are exposed to ECT, forensics, triage/evaluation service at the VAMC, addiction psychiatry, and Consultation Liaison service at University Hospital. Residents on the Consultation Liaison service evaluate acute medical/surgical patients at University Hospital and the VA Medical Center, often dealing with complex medical-psychiatric interactions and numerous interdisciplinary issues. Two hours of teaching rounds each day ensure close supervision.
On each service, residents see patients with different sociocultural and clinical presentations and gain more experience in individual, group, and family psychotherapy. Residents will also begin to acquire a small caseload of ambulatory patients who are former inpatients.
The course work shifts correspondingly. Seminars focus on advanced clinical psychiatry, basics of psychotherapy including a yearlong biopsychosocial formulation class, and psychological testing. By the end of the PGY2 year, residents have an in-depth knowledge of each of the major syndromes and can competently work with the entire range of acute inpatients, having used state-of-the-art treatment methods in a variety of settings. They can triage efficiently and choose the best treatment alternative for each patient presenting to an emergency service.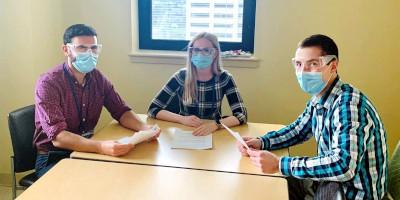 PGY2 Class of 2023