PGY1 Clinical Experience and Didactics
The First Year (PGY-1)
The first year is devoted to acquiring essential clinical skills in psychiatry and medicine, including interviewing, examination, diagnosis, and treatment. This year is divided as follows:
6 months of medicine rotations, filling requirements in:

2 months in inpatient medicine
1 month in outpatient medicine
1 month in emergency medicine
2 months in neurology

6 months of psychiatry rotations:

1 month of inpatient psychiatry at the VA Medical Center
1 month of outpatient psychotherapy (addiction psychiatry at our outpatient addiction clinic)
2 months of inpatient psychiatry at University Hospital
1 month of emergency psychiatry at University Hospital
1 month of inpatient psychiatry at Community General Hospital with exposure to ECT
Over the course of their first year, interns learn to interview and collect data efficiently, systematically observe and recognize psychopathology, organize these data and make a diagnosis, and develop multidisciplinary treatment plans. Concomitantly, the course work focuses on interviewing, diagnostic clinical psychiatry, emergency psychiatry, and clinical psychopharmacology. 
PGY1 July Orientation: The Cornerstone
During the month of July, incoming residents are launched in to an intensive 4-week orientation: the Cornerstone. The Cornerstone is dedicated to preparing PGY1 residents to successfully function as a resident in inpatient psychiatry and on-call in ER psychiatry as both a clinician and a teacher. By the end of this unique course, residents demonstrate both the knowledge base and skills necessary to:
Interview patients for diagnostic, initial treatment and disposition
Develop basic formulations for purposes of diagnostic, treatment and disposition
Start and follow initial treatments as appropriate, and know the risks, benefits, and purposes of each treatment
Function appropriately in the ER and acute inpatient settings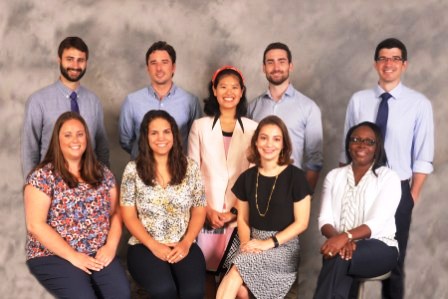 PGY1 Psychiatry July 2017 Intern Class