Adult Psychiatry Inpatient Unit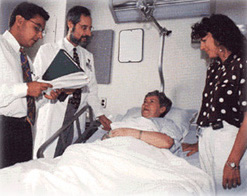 The inpatient unit at University Hospital is a 23-bed secure unit offering complete diagnostic evaluation and treatment for adults with a wide variety of psychiatric diagnoses. Patients are referred to 4B from outpatient settings, emergency facilities, other clinical services at University Hospital, and from hospitals throughout Central New York.
Psychiatrists, psychologists, nurses, social workers, occupational and recreational therapists, and other professionals work collaboratively to provide comprehensive inpatient treatment and liaison with follow-up outpatient care.
Services available on the unit include:
diagnostic assessment
psychopharmacological treatment
crisis-oriented individual and group psychotherapy
psychological testing
occupational and vocational rehabilitation
electroconvulsive therapy
family psychoeducation
counseling.
Consultation from all other specialties within the hospital is readily available to facilitate the assessment of patients medical problems and to collaborate in the evaluation of complicated medical/psychiatric disorders.
During their rotations on the Inpatient Unit, residents act as the primary clinicians for their assigned patients and are involved in all aspects of treatment. Residents work under the direct supervision of full-time attending psychiatrists who are members of the faculty of the Department of Psychiatry. Morning report, treatment team meetings, teaching rounds, and case conferences are educational experiences which provide an opportunity to discuss clinical and treatment issues with members of the multidisciplinary team. Residents also serve as supervisors and valuable teachers to third- and fourth- year medical students who are doing clinical clerkships and advanced psychiatry rotations on 4B.
In the third year, residents return to 4B as administrative residents whose roles are to coordinate admissions to the unit, and as the ECT residents who coordinate the electroconvulsive therapy program.