Thank you for your interest in applying to our residency program. Our program was visited by the ACGME Residency Review Committee in 2012 and we are proud to say that we have been accredited until 2023. With our continued accreditation, dynamic curriculum and a board pass rate of 100%, our program continues to seek the most promising psychiatry applicants through the National Resident Matching Program.
Deciding which programs to apply to can be very difficult. So, what makes us stand out?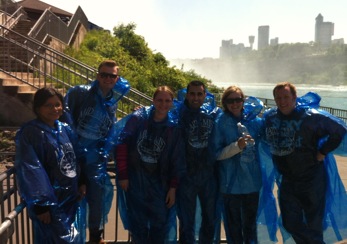 4 weeks of vacation/year
Book & travel allowance
Residents choose their own call
Annual resident retreat
Affordable city (average rental costs $800 -$900/month)
Excellent medical and dental benefits
Resident lunch gatherings weekly (lunch provided)
A variety of clinical sites, all within close proximity to the main hospital 
The number of ERAS applications we receive each year continues to rise. On average, we receive 1200 applications through the ERAS and that number continues to grow by 10 - 20% each year as our program continues to gain recognition. For the 2022-2023 academic year, we will have openings for 10 incoming PGY1s (5 at Upstate University Hospital, 5 at our participating community locations). With that said, we closely adhere to the following criteria while screening our applicants:
We only accept applications through ERAS; application deadline is December 15.
Interviews are held from mid-October to early February.
USMLE scores > 220 and COMLEX scores > 500 on the first attempt preferred.
Graduated medical school within the last 5 years.
You must pass the CS exam on the first attempt to be considered for an interview. If you have not taken the CS exam at the time of application, you may still apply and be considered for an interview. However, you must provide proof of passing on the first attempt as soon as possible in order to be ranked in our program.
ECFMG certification is required at the time of application.
We prefer up to 3 - 4 letters of recommendation.  If you are a foreign/international medical graduate, at least one of the letters of recommendation must be from an American psychiatrist.
US experience is desirable but not required.
All male applicants with US citizenship must be registered with the Selective Service.
Step 3 is not required at the time of application.
We sponsor J-1 Visas; H-1 Visas will be considered at the discretion of the Program Director and Chair.
*We will begin sending interview invitations out on Friday, September 30th and continue weekly until Friday, December 2nd.
NRMP tracks for the 2022 Match: 
Adult Psychiatry Categorical: 1516400C0 (Upstate University Hospital; 8 spots available, Syracuse, NY)
Psych/Rural:
Psych/Rural: