Psychiatric NP Fellowship
The specialty of psychiatry is growing in popularity with the growing demands in this field. It has been reported and observed that psychiatric nurse practitioners enter this field along side Psychiatry Residents without the supervision and support that build confidence in safely and effectively treating this population.
The Department of Psychiatry at Upstate has developed a Psychiatric Nurse Practitioner Fellowship (PNPF) program that provides Nurse Practitioners of Psychiatry (NPP) the opportunity to receive advanced training in psychiatry alongside the Psychiatry residents. This experience enhances inter professional collaboration, as well as the necessary support of senior staff to build a solid foundation in efficiency and safety as a psychiatric provider.
A certification is awarded as a mark of recognition for excellent and extensive training.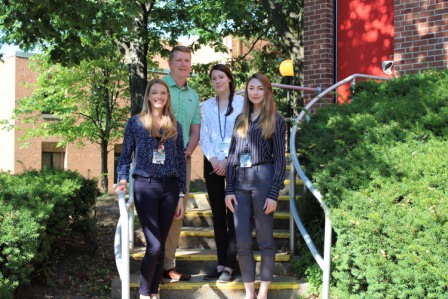 The fellowship at Upstate Medical University provides one year of advanced intensive training in psychiatric care for nurse practitioners. Fellowship training is provided by outstanding faculty in collaboration with the College of Nursing and the College of Medicine's Department of Psychiatry, ranked by US News and World Report within the top third of Psychiatry departments in the country.
Curriculum and Didactics:
Using an interdisciplinary approach, Fellows receive didactic instruction in the classroom combined with closely supervised hands-on experience in both inpatient and outpatient settings. In 2018 a pediatric component was added to support the growing need in pediatric psychiatry. Fellows work closely with other multidisciplinary team including, but not limited to: psychiatry attendings, psychiatry residents, senior PNPF, social workers and nursing staff. By the end of the fellowship, graduates will be able to confidently and competently manage a diverse array of mental disorders and presentations.
Application Process:
Applications to the Psychiatric NP Fellowship Program are accepted annually from September 1 through February 1 for the following Program Year (8/1 - 7/31). To apply, email your CV and letter of intent, along with 3 letters of reference. One letter of reference must be from an employer. Applicants who've demonstrated versatility, flexibility and interest in research are strongly encouraged to apply. Applications are accepted by email at ringhisj@upstate.edu. All applicants are required to complete an in person or video-call interview.
Salary, Benefits, and Expectations:
The Upstate fellowship is a 1-year contract of intensive training within the Department of Psychiatry at Upstate Medical University. Fellows must be enrolled in, and anticipating graduation from an accredited Psychiatric NP program that provides eligibility for PMHNP board certification. Family practice NPs are not eligible for this program without the above degree. Candidates must graduate prior to the beginning of the program start date. New York State licensure as a Nurse Practitioner, Psychiatric and ANCC National Board Certification must be completed prior to program entry.
Program Contacts: