Addiction Psychiatry Fellowship
Addiction Psychiatry Fellowship
600 E. Genesee Street
Suite 217
600 East Genesee Street
Syracuse, NY 13202
Google Maps & Directions
Phone:
315 464-9161
Fax:
315 464-3141
Name:
Vishal Anugu, Program Administrator
Email:
anuguv@upstate.edu
Addiction is one of the most exciting areas in medicine because of its border position. It is on the border of psychiatry and medicine. It is on the border of psychoanalysis and neuroscience.
Fellows on this elective will work with complexly ill patients in both inpatient and outpatient settings, providing both consultation and direct patient care. You will get a firm grounding in 12 Step Recovery Programs and attend Alcoholics Anonymous during your training experience where you will be immersed in the recovery culture.
Neuropsychoanalysis is the focus of Addiction Psychiatry Service. The staff of the service has special training in brain mechanisms of addiction, and how this knowledge can be combined with other state of the art modalities of psychotherapy to aid patients to enter a process of recovery.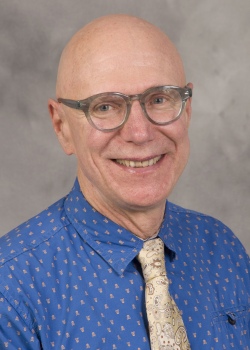 Brian Johnson, MD
Program Director
Program Overview
The Fellowship takes place at three sites. Two days per week at Upstate, including ½ day of the Multidisciplinary Pain Service. Two days per week at Crouse Chemical Dependency. Work includes methadone maintenance, inpatient rehab, outpatient buprenorphine maintenance. One half day at Helio Health performing outreach and initial stabilization including to rural communities. The Neuropsychoanalytic Addiction Medicine Service at Upstate is unique in the world.
Concepts
At its core addiction is an attachment disorder. Instead of being able to enter normal adult development, teenagers start to address emotional difficulties by squashing feelings with drugs. The core of the treatment involves psychotherapy.
"Pain" is a complex affect. Opioids regulate human relationships as well mediating brain responses to peripheral signals. The epidemic of opioid prescribing must be addressed by diagnosing pain drivers, recognizing the importance of brain-mediated pain/opioid induced hyperalgesia, and addressing emotional issues that are camouflaged by opioid maintenance.
We use neuroscience innovation to guide treatment. New technology drives the ability to deliver better care at cheaper prices. We can detox anyone outpatient in a few hours.  No "beds" needed.  We start helping the patient to build a recovery environment immediately by requiring all patients to ask for help from a non-addicted support person and constantly referring to 12 step recovery.  No "rehab" needed.
Relapse involves three driving forces:
Emotional issues that are covered over by drugs.  We respond acutely with diagnosis of psychiatric and pain issues, immediately beginning treatment with psychotherapy and medication; initially transference focused psychotherapy, longer term issues - Dynamic Deconstructive Psychotherapy (DDP)
Life long craving.  ALL drug addiction addressed, especially nicotine. Using one addictive drug turns on craving for others.
Post acute withdrawal (PAW). Opioid PAW addressed with low dose naltrexone, result followed with the cold pressor test for pain tolerance.  Alcohol dependent patients – support person asked to administer disulfiram for first year sober.
A selection of papers authored by our Program Director can be found here:
The Neuropsychoanalytic Approach
Fibromyalgia, Autism, and Opiod Addiction
Ameliorative Response to Detoxification
Engineering Neurobiological Systems: Addiction
Areas of Study
Through teaching, experience and supervision, fellows learn the fundamental principles of addiction psychiatry.
You would become a master of the field by participating in the following activities:
Outpatient detoxification in the Day Treatment Program
Psychotherapy of addicted patients
Supervision of residents and medical students at Commonwealth Place Addiction Rehabilitation and Crouse Hospital Chemical Dependency Addiction Psychiatry Outpatient Clinic
Weekly attendance at Methadone Maintenance rounds coordinating shared cases and starting your own Buprenorphine Maintenance program if you would like
Attending and presenting at the academic conferences at Day Treatment and Commonwealth Place
Working with the Director on special projects in adolescent addiction, pain, and prescription drug abuse
Application Process
To apply, please include the following:
CV: This should include all education and post-graduate training, employment experience (if relevant), honors/awards, and publications
Personal Statement (please limit to one page, single-spaced)
Sample of writing (Clinical Intake Note or manuscript you primarily authored)
Copy of ECFMG Certification (if applicable)
Copy of VISA (if needed)
Photo (optional)
Send to:
Vishal Anugu, Program Administrator
Addiction Psychiatry Fellowship Program
Department of Psychiatry
SUNY Upstate Medical University
750 East Adams St
Syracuse, NY 13210
Question? Contact Vishal Anugu at AnuguV@upstate.edu or 315-464-9161