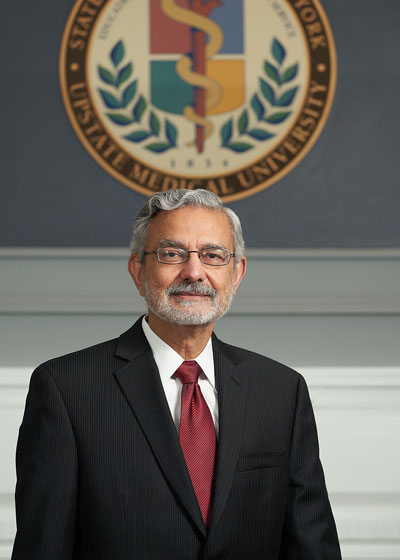 Dr. Mantosh Dewan, President of Upstate Medical University
Dr. Dewan currently serves as president of Upstate Medical University. He is a SUNY Distinguished Service Professor in the Department of Psychiatry. He is former chair of the department and has also served as director of Undergraduate Education and director of Residency Training. He was interim dean of the College of Medicine.
Throughout his career, which began at Upstate Medical in 1979 as an assistant professor of psychiatry, he has written 35 books and book chapters and 75 papers, and given hundreds of presentations on topics that range from brain imaging and economics of mental health care to psychotherapy and medical education. His work has been funded by grants from the National Institute of Mental Health and the Health Resources and Services Administration.
Dr. Dewan has an active clinical practice and is listed in The Best Doctors in America. He is a Distinguished Life Fellow of the American Psychiatric Association and has received the Scientific Achievement Award from the Indo-American Psychiatrists Association, the Exemplary Psychiatrist Award from the National Alliance for the Mentally Ill, the 2010 George Tarjan Award from the American Psychiatric Association, and designated an "Exemplary Chair" by SUNY in 2011.
He holds a doctor of medicine from University of Bombay (currently Mumbai University). Dr. Dewan conducted his residency at University Hospital, SUNY Health Science Center in Syracuse.