Admission Granted 23/24 Academic Year Hosts
Veronica is a second year PhD student in the department of Pharmacology. She graduated from SUNY Oswego in 2019 with her B.S in Biology. She has now joined Dr. David Auerbach's lab and is working on determining the mechanism of and multi-system cascade surrounding seizures and sudden death in epilepsy (SUDEP) in a rabbit model of Long QT Syndrome Type-2. In her free time, she enjoys watching TV with her cat and exploring new bars and restaurants around Syracuse.
---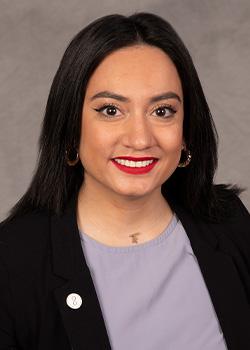 Katherine, a DACA recipient from Guatemala, is currently a second-year MD student. She completed her undergraduate studies at Mary Baldwin University, where she double majored in Biomedical Sciences and Business Administration. Prior to pursuing her Master of Public Health and Master of Business Administration from Johns Hopkins University, she led a program for the Georgia Department of Behavioral Health and Developmental Disabilities working with immigrants and refugees. As a first-generation college student and immigrant, herself, she is committed to advocating for equity and inclusivity in academia. She is passionate about promoting immigrant health through research and policy. In her free time, Katherine can be found at the gym, volunteering and mentoring DACA recipients and underrepresented minorities, or cooking up a storm in the kitchen.
---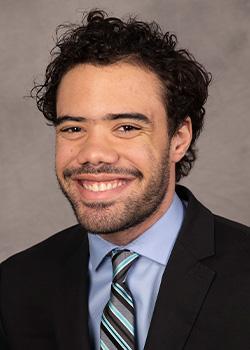 Jared is a MedScholar in the Medical Technology M.S. Program at Upstate that will be joining the Norton College of Medicine MD program for the Fall of 2023.. He previously graduated from the University of North Carolina at Chapel Hill with a B.S. in Neuroscience and a B.A. in Dramatic Art. Before beginning his graduate studies, he worked as a medical lab technician and intake coordinator at a substance abuse clinic in rural North Carolina. He is passionate about medical and therapeutic interventions for patients with opioid use disorders, providing intakes with further resources to address social determinants of health. He is also the president of Arts Alive, a performing arts organization committed to fostering community and service among Upstate's students and staff. Outside of class, Jared likes to play intramural volleyball, watch Broadway musicals, and snow-ski down Song Mountain.
Admission Granted 22/23 Academic Year Hosts
A native of Jamesville NY, Kristina graduated from Binghamton University in 2021 with a B.S. in Biology and B.A. in Political Science. She applied to SUNY Upstate as a college sophomore through the Early Assurance Program and is currently a first-year medical student. In addition to her studies, she is a mentor through the Binghamton-Upstate Mentoring Partnership Program and is a mass singer at Assumption Church in downtown Syracuse. As a first-generation student, she has a passion for helping other students find their way to a career in the medical field and hopes to one day use her medical degree to advocate for children's health and equitable care for underserved communities. In her free-time she enjoys going to the theatre, and spending time with her cat.
---
Brittany is a 4th year PhD student in the Microbiology & Immunology Department at SUNY Upstate Medical University. Brittany is from Chittenango, NY and graduated from SUNY Potsdam in 2018 with a B.S. in Biochemistry. She is a member of Gary Chan's lab and studies HCMV mediated survival in peripheral blood monocytes and monocytes derived from latently infected CD34+ stem cells. In her free time she cuddles with her cat, is an avid movie lover, and loves grabbing a burger and beers.
---
Natalie is a rising second year medical student from New York City. Before pursuing a career in medicine, she worked in hospitality and special education. While completing a bachelor's degree in chemistry, she volunteered as a Spanish-speaking hospital interpreter and public health research assistant, both of which affirmed her mission to help improve health outcomes for underserved populations. Outside of school, she enjoys cooking, word puzzles, and exploring local nature. 
Admission Granted 21/22 Academic Year Hosts
Andrea Price, Second Year Medical Student
Andréa is a rising 2nd year Medical Student at Upstate Medical University. She is from Syracuse, New York, and attended Binghamton University for her undergraduate degree where she played the French horn and was a Lead Pre-Health Peer Advisor. Andréa is an active volunteer at Helping Hounds Dog Rescue. She currently works as a teaching assistant for the Upstate Accelerated Scholars program and is president of the Binghamton Upstate Mentoring Partnership program. In her free time, she enjoys volunteering, reading, boating, waterskiing, and traveling!
---
John Cote, Second Year Medical Student
John is a rising 2nd year Medical Student at Upstate Medical University. He is from Syracuse, NY, and attended Wesleyan University where he majored in Neuroscience and Biology. In his free time John volunteers at Helping Hounds Dog Rescue and enjoys making music.