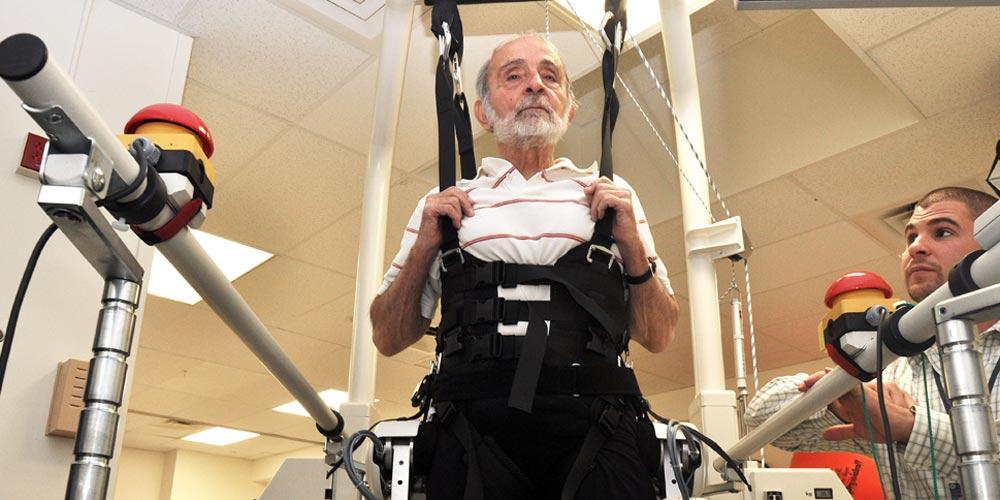 Body Weight Support Treadmill Training
Upstate Rehabilitation at the Downtown Campus
Upstate University Hospital
Rm. N2104,
750 East Adams Street
Syracuse, NY 13210
Map & directions
Phone:
315 464-6543
Fax:
315 464-4753
Hours:
Mon.-Fri. 7:30am-4:30pm
The Physical Medicine and Rehabilitation Department at University Hospital offers body weight supported treadmill training. This training can be used for people with a variety of diagnoses such as stroke, traumatic brain injury, spinal cord injury, multiple sclerosis, Parkinson's disease, cerebral palsy, and other neurologic diseases and disorders.
Here at Upstate, we use the Lokomat® system from Hocoma. The Lokomat® has a robotic-driven gait orthosis that guides your legs on a treadmill, while supporting your weight to promote a more normal walking pattern. Your therapist can choose to use either the Lokomat® robotic system or more traditional manual system, based on your individual needs. Pediatric orthoses are also available.
What to Expect from your Therapy
Please arrive 15 minutes before your first scheduled appointment
Your therapist will perform a complete evaluation to determine the physical therapy plan and which mode of treadmill training is best for you.
For manual treadmill training the therapist will then:

Fit the harness
Determine the amount of body weight support to start
Raise you up and begin treadmill training

For robotic treadmill training the therapist will then:

Measure your leg length
Fit the harness, leg cuffs, and leg straps
Set up the machine
Determine the amount of body weight support to start
Hook up the harness
Raise you off the treadmill
Strap you into the robotic orthosis
Adjust the settings for your best walking pattern
Start the treadmill and lower you to begin body weight supported treadmill training

Watch a video of how the Lokomat® system is set up.
What to Wear to Your Appointment
It is important to wear appropriate clothing for the Lokomat®, starting on your initial appointment. Please wear clothes that are comfortable and allow you to move freely such as sweat pants or jogging pants. Please wear tall socks and sneakers. Denim pants and shorts are not suitable. Avoid zippers and buttons on your pant legs or shirts.
What to Do Next
If you think body weight supported treadmill training may be right for you:
Discuss it with your physician
Get a prescription for physical therapy from your physician
Call (315) 464-2300 to schedule an assessment to determine if body weight supported treadmill training is right for you
Typically you will start with a 6 week trial of body weight support treadmill training to assess effects.
A physician's referral is required for examination and treatment within this program