Spinal Cord Injury Rehabilitation
Upstate Regional Rehabilitation Centers at University Hospital
Upstate University Hospital
Rm. N2104
750 East Adams Street
Syracuse, NY 13210
Google Maps & Directions
Phone:
315 464-6543
Fax:
315 464-4753
| | |
| --- | --- |
| Hours: | Mon.-Fri. 7:30am-4:30pm |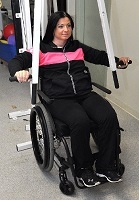 The Physical Medicine and Rehabilitation Department offers comprehensive services to patients that have sustained a spinal cord injury. This includes services during the acute hospital stay, inpatient rehabilitation, and outpatient rehabilitation. Our program addresses the complexity of spinal cord injury including paraplegia, tetraplegia, bowel and bladder dysfunction, and spasticity.
Our goal is to begin early intervention to optimize a patient's independence at home and in the community. We strive to improve physical function, mobility, and activities of daily living through the use of strategies, skills and adaptive technology. Education is provided throughout the rehabilitation process to patients and family members to maximize recovery and general health. Support will also be provided by psychologists and social workers to address any emotional, cognitive or adjustment needs.
Treatments in Spinal Cord Rehabilitation may include:
Spasticity/Tone management
Splinting/orthotics
ADL training
Functional strengthening
Gait training
Wheelchair fitting and mobility
Equipment needs assessment     
Home modification/setup
Self and assisted stretching
Home program
Bowel and bladder management
Transfer training and bed mobility
Family/caregiver training
Specialty training programs may include the use of specialized equipment including the:
Lokomat
Armeo 
Functional E-stim
Bioness H200 and L300
RT300 Cycle
Walkaide
NeuroCom Balance Master
Preparing for your first visit
Wear comfortable clothing and appropriate footwear (closed toed shoes)
The first visit is to complete an initial evaluation, including medical history, objective measures, and functional testing to establish an appropriate treatment plan and home exercise program
Bring any braces or splints you are currently using or have been given in the past
Bring current medication list, test results, and surgical history
A physician's referral is required for evaluation and treatment within this program.