Upstate Regional Rehabilitation Centers at Manlius
Manlius Health Center
Suite 200
102 West Seneca Street
Manlius, NY 13104
Google Maps & Directions
Phone:
315 464-6543
Fax:
315 464-4753
| | |
| --- | --- |
| Hours: | Mon. Wed. Fri. - 8am-4:30pm; Tues. Thurs. - 7:30am-6pm |
The Physical Medicine and Rehabilitation Department offers a Performing Arts and Sports Program which specializes in rehabilitation for athletes, dancers, and musicians.
The rehabilitation process integrates a comprehensive biomechanical assessment and the latest therapy techniques and equipment for the dancers, and musicians.
The physical therapists that conduct the evaluation and treatment have dance experience at the collegiate, professional, or international level. Several of the therapists involved have certifications in Dance Medicine through Harkness Center in NYC.
They also provide dance injury prevention workshops for local dance studios and companies. These workshops consist of dance specific postural control analysis, education in injury prevention and Pilates based exercise.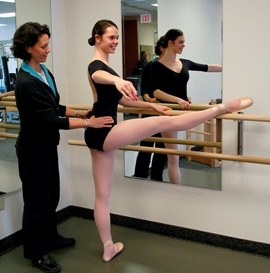 Who can benefit from therapy?
Dancers of all ages and any type of dance form.
What should you expect from your therapy?
The physical therapists in the Performing Arts Program offer a comprehensive examination focused on returning ou to dance as quickly and safely as possible.
Treatment may include:
Dance postural analysis
Supportive taping
Dance specific exercises
Modalities for controlling pain and inflammation
Footwear assessment ie. dance shoes
Your rehabilitation will include education on prevention of re-injury and performance improvement.
A physician's referral is required for examination and treatment within this program.