Pediatric Rehabilitation Therapies
The Physical Medicine and Rehabilitation Department at University Hospital offers a comprehensive therapy program for children with diagnoses including but not limited to cerebral palsy, stroke, spinal cord injury, traumatic brain injury, burns, concussion, cancer, cystic fibrosis, spina bifida, orthopedic injuries, torticollis, toe walking, and tone management.  Our pediatric team of therapists include: Physical Therapists, Speech Language Pathologists, and Occupational Therapists.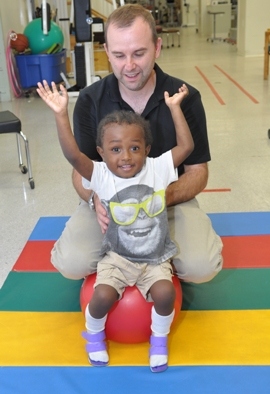 Your physician will make a referral to the appropriate discipline based on your child's individual deficits, and needs.  Once the referral is received, the therapists will conduct an initial evaluation, and design an individualized treatment plan that is unique to your child. Your team of therapists will include your family in training, education classes, and order appropriate equipment required to achieve independence and/or safety for discharge.
Treatments and services may include:
Fine and gross motor examination and treatment
Body weight supported treadmill training
Developmental education
Neuromuscular re-education
Orthotic recommendations
Splint fabrication
Wheelchair evaluation
Serial casting
Strengthening
Range of motion
Education for home exercise program
Aquatic Therapy
In addition, our team of therapists at Upstate have access to state of the art technology to assist with healing and progress during your child's recovery.  Some of our skilled therapy includes education in use of the: Lokomat, Armeo Spring, Bioness, Walkaide, Dynavision.
A physician's referral is required for evaluation and treatment within this program.